Petrified holidaymaker finds venomous scorpion in his suitcase after jetting back from trip abroad
The petrified ex-rugby player who 'runs a mile from bees and wasps' had been unpacking his clothes just hours after arriving home from holiday when he spotted the venomous arachnid.
Watch more of our videos on Shots! 
and live on Freeview channel 276
Visit Shots! now
A holidaymaker with a fear of insects was horrified to find a scorpion scuttling around his suitcase after jetting back from a break to Cuba. David Judd had been unpacking his clothes just hours after arriving home when he spotted the venomous arachnid.
The petrified ex-amateur rugby player, who lost his left leg in a car accident, settled on using a litter picker to grab its tail before skillfully placing it in a Tupperware box. He's since been able to identify the animal, which he has called Brian, as a Cuban Bark Scorpion - capable of a very painful, but non-deadly, sting with its back tail.
David, an actor who's appeared in shows such as Emmerdale and Scott & Bailey, has now brought it to a local reptile store where it will live out its life eating crickets. The 55-year-old said: "When I saw it was a scorpion, it was a very scary moment for me.
"I'm a 6ft 1in ex-rugby player, and I let out a very loud screech. In my house, my wife deals with wasps, spiders and moths. I absolutely hate anything like that.
"I tried to coax it into the box, but it clearly wasn't going to go in of its own accord. Then I grabbed its tail, picked it up and put it in, closing it loosely as it's airtight.
"I felt a huge feeling of pride at being able to do such a thing. I run a mile from wasps and bees, and here I am getting hold of a scorpion."
David said they'd arrived at Manchester Airport from their holiday near Havana at 10am on Friday (May 26), before driving back home to Wakefield, West Yorkshire. The pair were shattered from their long journey, so they both got into bed for a few hours sleep, before David awoke and began unpacking clothes from his bags.
But as he was reaching the bottom of his suitcase, he saw something scuttling around before realising to his shock it was a scorpion. He said: "It got to the last bit, and I saw something moving. I'm thinking 'That wasn't a belt buckle or anything that should be in there'.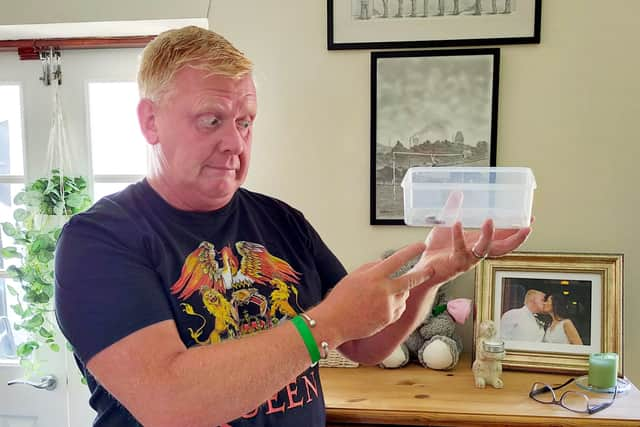 "There were a lot of fireflies in the trees, and they were quite a size, so I thought it was one of those until I saw it move across the suitcase. I just legged it - I jumped straight out of the room, straight into the bedroom where my wife was.
"I was trying to tell her what I'd seen. She was still very tired and it was clear that she wasn't going to get out of bed and help me with that situation."
Once David managed to scoop the scorpion into the Tupperware box, he phoned the police on their 101 number and asked for their advice. And with the help of the call handler, he settled on ringing a local reptile store, Aquatica, who agreed to take on the creature.
David said he was pleased the little animal had been handed over to a responsible new owner, adding he had decided to call him Brian after he'd caught him. He went on: "You've got to give everything a name.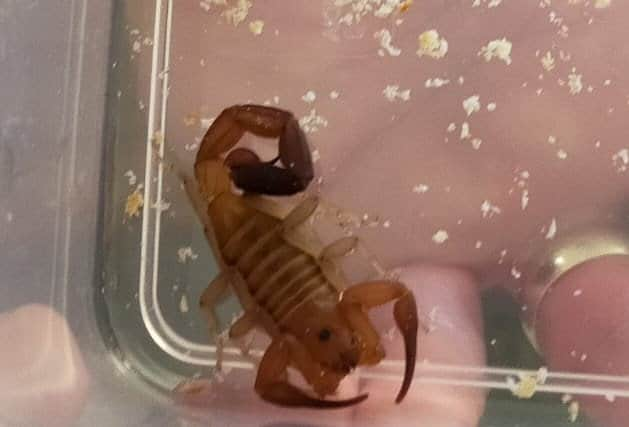 "Every living thing deserves a name, and he's now called Brian. I was happy to see him go.
"But also really happy where he was going because the guy who owns the shop had got all kinds of stuff. Brian now seems like a very happy chappy. He's getting his board and lodgings for free."