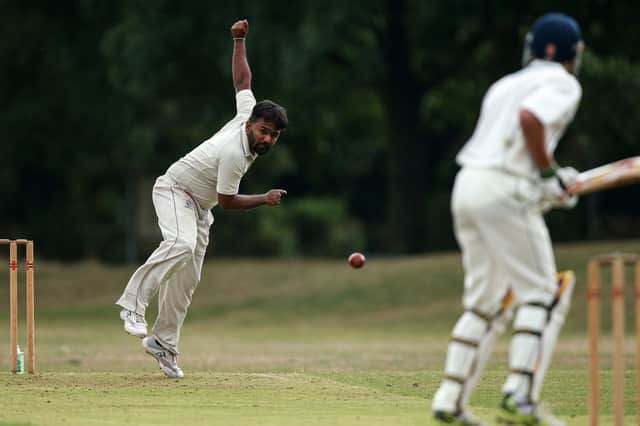 Harikrishnan Korasseril bowling for Kerala against Railway Triangle at Farlington. Picture: Chris Moorhouse
Batting at No 6, Manga struck 41 as Kerala recovered from a poor start to total 186 in 33.5 overs of their Regional P encounter.
Top order pair Lalu Antony and Harikrishnan Korasseril were both out for a single before Rakesh Janardhanan (37) and wicket-keeper Prasad Panicker (32) got amongst the runs.
Raju Kurian (35) provided late runs at No 8 with Stuart White (3-25 off seven overs) Triangle's most successful bowler.
Tim Godfray batting for Railway Triangle against Kerala. Picture: Chris Moorhouse
Triangle were 25-1 off 10 overs in reply when the rains came.
Sudhir Rao claimed career best bowling figures for Sarisbury as the 3rds defeated Old Netley & Highfield in Regional L.
He cleaned up the lower order and tail to finish with 5-15 off 4.2 overs as Old Netley were dismissed for 80 off 20.2 overs.
Kerala skipper Imthias Manga. Picture: Chris Moorhouse
New ball pair Michael Poyner (2-27) and Khazi Yousef (2-15) were also among the wickets.
In reply, J Bradley hit 38 and Elliott Smith - who the previous week had struck an unbeaten century against Burridge 3rds - contributed a run-a-ball 17.
Sarisbury raced to victory on 81-3 off just 12.5 overs.
Nigin Abraham bowling for Kerala against Railway Triangle at Farlington. Picture: Chris Moorhouse
Bishop's Waltham skipper Andrew Robinson took victory away from Locks Heath in Regional M of the Hampshire District League.
Locks were looking good despite only having posted 169-8 in their 40 overs.
But Robinson, batting at No 7, struck an unbeaten 67 and along with No 10 Nick Taylor (11 not out) saw Waltham home on 170-8 with just four balls to spare.
Locks bowler Ben Farrington (3-27) had taken three top order wickets, but it was ultimately in vain.
Earlier, opener Joshua Cousins (50) had top scored for Locks with middle order runs coming from skipper Matt Wake (24) and C Holyer (29).