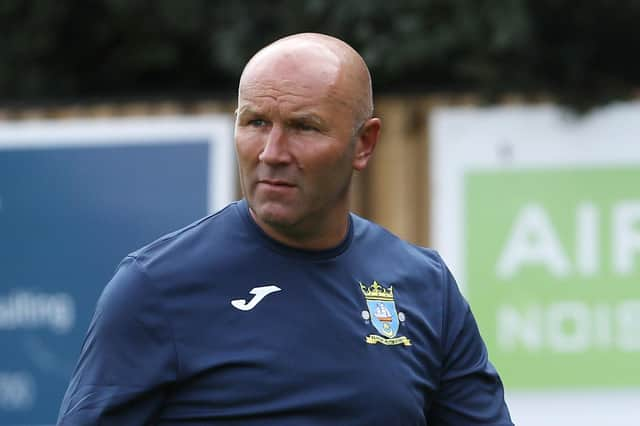 Baffins Milton Rovers manager Steve Leigh. Picture: Chris Moorhouse
But he also admitted he 'couldn't wait' for the Wessex League Premier Division to finish from a personal perspective.
Rovers endured a season to forget with seemingly never-ending pitch problems and the awful weather forcing a large number of postponements at their PMC Stadium home.
Rovers still had 15 league matches left this term - more than any other Wessex League club - prior to the FA null and voiding the season for teams below National League level.
Hawks boss Paul Doswell. Picture: Dave Haines
It was a decision Leigh welcomed, although he did spare a thought for those teams who were denied promotion.
'On our view, the season has been so stop-and-start,' he said.
'I couldn't wait for it to end because we had no momentum.
'If the season had carried on, for me, it was a case of seeing what players from the reserves could step up to the Wessex Premier and giving them an opportunity.
'Obviously, we can't do that now.
'Regarding the league decision to null and void, my view is that we're so far into the season now… you could accept it was null and void a few months into the season.
'When you're this far in, the clubs who are fighting at the top to get promotion, it's hard.
'I know they've got tough decisions, I wouldn't want to be in their position, but when a club has spent a lot of time and effort throughout the months with the training and games.
'There has to be an end result when there's eight to 10 games left of the season.
'I thought it was harsh.'
Leigh, whose team ended the campaign in 14th, provided two different outcomes that could have been reached by the authorities.
He felt either ending the season and leaving the table as it was or on a points-per-game basis would have been better options.
'There should have been an outcome,' said Leigh.
'There's two ways you can turn it and say the league doesn't lie and end it as it was.
'On the other hand if it's points-per-game, which a lot of managers and people have said out there, if it was that then Christchurch and Alresford would have gone up.
'It's one of the two - the league ending as it was now or points-per-game.'