Baffins Milton still have sights set on pushing for Southern League within two years
Baffins Milton Rovers are still gearing up to be pushing for Southern League football within two years.
Tuesday, 28th April 2020, 12:53 pm
Updated
Tuesday, 28th April 2020, 1:00 pm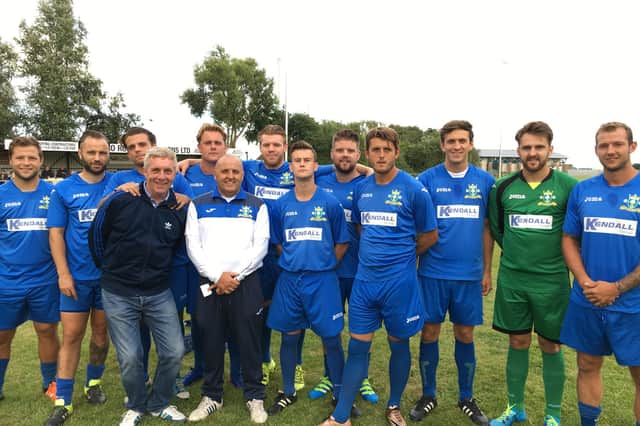 Baffins Milton Rovers players and management on the day the PMC Stadium was officially opened in August 2016. Picture: Ben Fishwick.
Ambitious chairman Steve Cripps is hopeful all the infrastructure will be in place by then for the club to follow city rivals Moneyfields out of the Wessex League and into step four of the non-league game.
All that is needed then is for the team to be good enough to win the Wessex and book the one automatic promotion place currently on offer.
Baffins' 2019/20 season never got going due to a staggering amount of postponements at their PMC Stadium.
Baffins Milton Rovers chairman Steve Cripps. Picture: Sarah Standing
With seemingly never-ending rain from late September onwards, Rovers only completed eight home league games. And only three of them took place from November onwards.
Tenants Portsmouth Women were even harder hit by the continual drainage problems that affected the pitch.
They only managed to play three home league games, and none at all after September 22.
Baffins have already taken action to ensure there is no repeat ever again.
Baffins Milton Rovers' PMC Stadium, where major pitch improvements are currently taking place after horrendous drainage issues in 2019/20. Picture: Keith Woodland
'We are spending a significant sum to sort out the drainage problems on the pitch,' revealed Cripps.
'The pitch is now up and we've installed drainage boxes the entire length of the touchline (the nearest one to Eastern Road) where there was the main issue.
'Hopefully we won't have those problems any more - we had a colossal amount of rain, but it was the first season we've had any problems like that.
'The pitch will also be reseeded - we've got groundsmen from Portsmouth FC coming in to do that.
The damage to Baffins' pitch after vandals had driven a tractor all over it
'Later this year we should have a new car park for 120-odd vehicles, and next year we will be looking at improving the changing rooms.
'That will be us done then - we're still looking at the Southern League within a couple of years.'
If Baffins do get there within that time frame, it will be the latest chapter in a fairly meteoric rise.
In 2011/12 the club won the Portsmouth Saturday League title at the first time of asking. They were then playing home games on the council-owned pitch which is adjacent to their current PMC Stadium base, which eight years ago was just a patch of grass.
Shane Cornis, left, was Baffins' top scorer in their debut Hampshire Premier League season in 2013/14. Picture Ian Hargreaves
Cripps said the club would love to buy that council-owned pitch to extend their facilities. When the Conservatives were in charge it was looking likely a deal could be struck, but that ended when the Lib Dems regained control of the council.
A year later, in 2012/13, Baffins finished runners-up to Waterlooville Social Club in the PSL but still ended up being invited to play in the Hampshire Premier League.
Again, Baffins won the title at the first attempt in 2013/14, and after finishing second the following season they lifted the championship again in 2015/16 - this time with a HPL record points haul of 96.
Advancing to the Wessex League, they won promotion at the first attempt in 2016/17, and the following season were ninth in their debut season at step five - still only six years after playing in the Portsmouth Saturday League.
Steve Leigh replaced Louis Bell - the man who had taken Rovers out of the Hampshire League and into the Wessex Premier - in February 2018.
In his first full season, Rovers finished fifth, won the Wessex League Cup and also reached the fourth round of the FA Vase in only their second season in the competition.
That is further than Fareham, Portchester or Horndean have ever managed from many more attempts.
Were Baffins to reach the Southern League in 2022, they would only have spent seven seasons as a Wessex League club - compared to the 18 it took Moneyfields to reach the Southern League.
Leigh was this week replaced by Shaun Wilkinson, who had a short spell assisting Bell in early 2017/18.
'Shaun knows the club and some of the players, he's a good, knowledgeable guy,' said Cripps. 'He lives in Portsmouth and he's well connected in football around here.
'He's got a tough act to follow - Steve Leigh did a great job.
'I know we were near the bottom when this season finished but we had lots of games in hand, and I would have expected us to finish in the top seven or eight.'
Wilkinson's arrival at Baffins is unlikely to signal any major culture change.
The club have given youngsters released by Pompey a chance in recent years - the likes of Joel Jackson and Tommy Scutt.
And writing in the club's programme this season, Cripps talked about progressing 'in an orderly manner, building teams from a very young age and not buying off the cuff players at crazy prices.'
Speaking to The News, Cripps added: 'We've got a good relationship with Portsmouth FC, we've been able to take some lads that have left their academy.
'We know our place - we're only a feeder club for the likes of Havant and Bognor, and that's fine by us. We're never going to stop anyone progressing.
'We want to try and keep a squad where all our players are from the island - there's enough good players in Portsmouth to do that.'
Baffins still had 15 league games left in 2019/20 - eight fewer than some clubs - when Covid-19 caused a virtual global lockdown on sport being played.
Due to the wet weather, they still had 11 home games left when the season was halted in mid-March.
Had 2019/20 been played due to a conclusion, though, most of those would have taken place away.
That's because vandals stole a tractor from the nearby golf club last month, drove it up the Eastern Road and broke down a fence before careering it all over Baffins' pitch.
In an instant, that would have ruled the surface unplayable for the rest of the campaign.
Due to the fact their title challenge never got off the ground, and with the amount of games they still had to play, Cripps was not unhappy with the premature end to 2019/20.
He is also confident the pandemic won't cause his club any financial concerns - even though there is current uncertainty about when the next Wessex League season will begin.
'It won't affect us at all,' he said. 'We've still got a significant amount in the bank. We're very well run, we spend within our means.
'I do feel for people like Paul (Kelly, chairman) at Portchester and Stuart (Munro, former chairman) at Alresford.
'They had aspirations to go up, they were geared to go up, but now all the money they spent in the season is dead money.'
Cripps was unhappy that the FA decided to null and void non-league football from steps 3-7 (Baffins play at step five).
'It should have been put to the clubs, we should have been asked how we wanted to end the season,' he said.
'I would have preferred to see points per game, even though it didn't affect us. At least then you would still be rewarding the clubs that had done well.'
As it stands, Baffins have yet to agree a deal for Portsmouth Women to use the PMC Stadium again in 2020/21.
'Portsmouth want to come back, they want to play home games on the island and I can understand that,' said Cripps.
'We haven't agreed anything yet, but we will do all we can to facilitate them.'