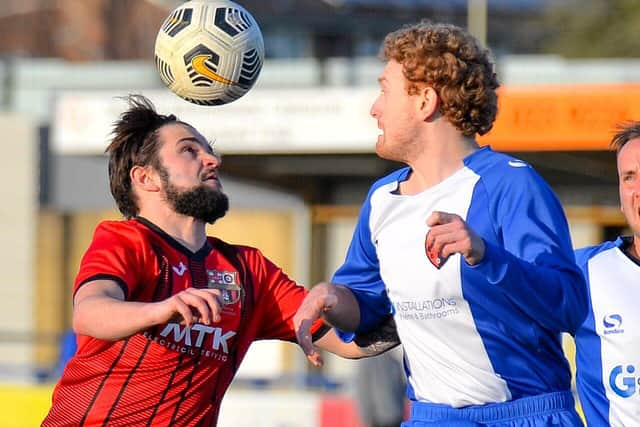 Horndean's Pete Snaith, left, with Rowner's Alex Hall. Picture: Martyn White.
In the second MSL game played at Hawks' Westleigh Park stadium on Saturday, Davison's second goal of the contest sealed his side's 4-1 Division 2 victory.
The wing-back collected a crossfield pass before spotting Rowner keeper Jake Smith off his line and producing a finish deserving of a National League South backdrop.
Davison had earlier given United a half-time lead, an advantage quickly cancelled out after the restart when Craig Rigg was left unmarked to head in a corner.
Jack Hunt of Rowner fires in a shot against Horndean United. Pic: Martyn White.
Horndean - who had lost to Rowner before the mid-December lockdown - restored their lead when Pete Snaith collided with Smith, the ball running loose for Paul Leggett to tap in.
Steve Mitchell made it 3-1 with a penalty awarded for handball - Smith going the right way but unable to keep the spot-kick out.
The victory moved Horndean up to second in Division 2, a point behind Carberry having played a game more.
Horndean's final match of 2020/21 - against Carberry at Westleigh Park on May 1 - could yet prove to be decisive in the battle for second tier silverware.
Lewis Saunders of Horndean skips past this challenge from Rowner's Bradley Pearce. Pic: Martyn White.
Lewis Charlton, part of the Horndean management team, said: 'It was a really good experience playing on a class surface.
'We went a bit too long early on, but we were a lot more effective when we shortened it up.'
Rowner boss James Dedman commented: 'It was a good game played in the right spirit.
It was a competitive game, until we capitulated!'
Horndean's Paul Leggett is tackled by Patrick Kerr. Picture: Bradley Pearce
Horndean were fielding a new-look defensive three as part of a 3-5-2 system as Jake Jenkins and John Ashford – both normally midfielders – were pushed back into defence.
Mid-Solent League officials decided to split the 13-team division into team post-lockdown in order to complete 2020/21.
The plan is for a two-division structure next season as well, with Harvest Reserves and AFC Trades boosting the numbers to 15.
Charlton, a member of the MSL committee, admits no decision has yet been taken on how many teams will be in each of the two divisions, or what division the two new sides will be placed in.
There is also no decision yet on whether the club that wins the Division 2 title will start 2021/22 in the top division.
With league matches going on into May, there could also be time to play a supplementary cup competition - if there is demand.
Charlton, the league's cup secretary, remarked: 'It's left open at the moment.
'With my cup hat on, I'd like to try and get some sort of competition in - whether it's a supplementary cup, the Len Day or the Father Purcell.
'But the main objective is to complete the league season first.
'It would depend on what the clubs wanted - there were some concerns a few weeks ago from some teams about possibly playing on into June.'
Under FA guidelines, grassroots football can continue until the end of June.