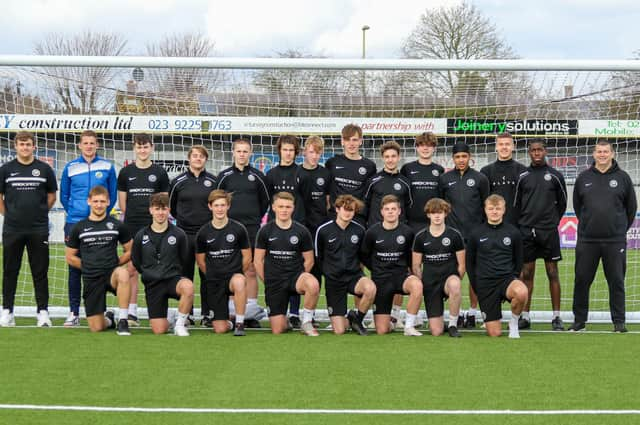 Playing members and coaching staff of Havant & Waterlooville's Pro:Direct Academy. Picture: Kieron Louloudis
The 17-year-old defender was involved in Paul Doswell s match-day squads for FA Cup ties against Bath City and Cray Wanderers in 2020/21 after linking up with the Pro:Direct Hampshire Academy last summer.
Bright was handed extra time with the first team squad as the Hawks party stayed overnight in Bristol prior to their fourth qualifying round win at Bath last October.
The programme - now known as the Havant & Waterlooville Pro:Direct Academy after joining forces with Hawks to be based out of Westleigh Park - was started by former Gosport Borough goalkeeper Tony Stares with ex-Pompey youth product Joe Oastler head of coaching.
Lawson Bright was on the bench for Hawks in FA Cup ties against Bath City and Cray Valley. Picture: Kieron Louloudis.
It was on the recommendation of Oastler that Bright - who was previously part of the Pompey in the Community set up - was handed his opportunity with Hawks as they ran the rule over him last pre-season, just a matter of weeks after moving to the academy having been told about it by a friend.
The former Cowplain School pupil's decision paid off almost immediately and he has been invited to return to training with Doswell's first team squad this summer.
Bright, who has played for Hampshire Premier League side Colden Common and Southern League outfit Winchester City, believes the academy has provided him with a chance he might not have got elsewhere - and he is intent of grabbing it with both hands.
Bright - a member of Winchester City's Hampshire FA under-16s Cup winners in 2018/19 - said: 'It's been unreal, I couldn't ask for much more.
'Dos (Hawks boss Paul Doswell) has been unreal, the gaffer's been amazing with me and invited me back in June to come and train full-time. You couldn't ask for much more, really.
'It was unreal, it all just happened so quick. I've gone from Pompey in the Community to training week-in, week-out with the first team and going to games.
'I did pre-season here last season, really enjoyed it, I loved the intensity and just carried on and worked my way into the first team.
'I'd done a couple of sessions and next thing I know he (Doswell) is inviting me to breakfast, having breakfast and lunch, then travelling all the way to Bath and having a really good experience.
'He (Doswell) took me under his wing and everyone was so welcoming. Next thing I know I was signing, going to games etc, it's been unreal.
'I travelled to Bath, stayed overnight, was in the warm-ups.
'It was an unreal achievement and they were just all really welcoming.'
Bright, who made seven appearances for Colden Common in the 2019/20 campaign, highlighted the influence Oastler has had on him reaching the Hawks first team squad and improving his game overall.
With both being centre-backs, the chance to learn off someone in his position - Oastler played over 100 League 2 matches for Torquay United - is something the Waterlooville-based teenager feels has really benefited him.
But Bright acknowledged the off-the field stuff at the academy has also been important.
He, along with the fellow 16-18 year olds on the two-year programme, work towards achieving educational qualifications in the classroom, with the course now solely to be run out of Westleigh Park.
And Bright understands the importance of improving as a player but also as a person through the programme.
He said: 'A crazy amount (Oastler's influence on his game). Taking me under his wing, non-stop sessions everyday. It's not even the sessions, it's the advice on and off the pitch as well.
'Just telling me to keep going, working hard, it's given me such a big advantage to get into the first team.
'Luckily enough, I came with all five GCSEs that I needed so I didn't need to retake or revise anything, so it was just head down on football.
'We do a few hours a week on education which is easy enough and a few extra hours at home doing my work with the situation with corona.
'You need that back up, 100 per cent.
'You need to focus on revision and actually get it done, especially with the not-so-clever ones, you need to get it done.'