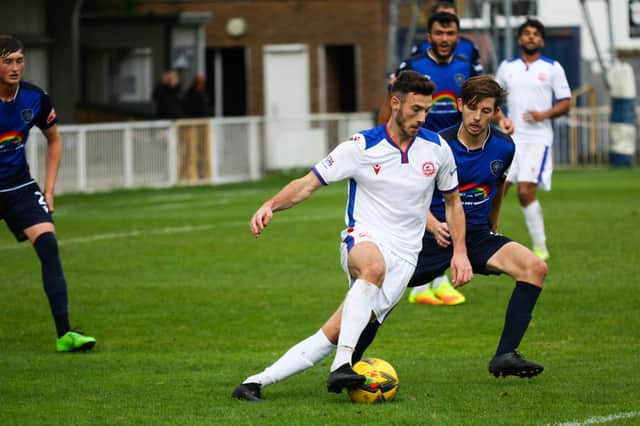 Clubs at steps 3-6 of the non-league pyramid - including Gosport Borough at step 3 in the Southern Premier League - will share £10m of grants in a financial aid package announced today by sports minister Nigel Huddleston. Pic: Tom Phillips.
But the National League funding crisis goes on as Huddleston stated the 66 clubs across three divisions - including Hawks - will only receive loans for the next three months.
That is after the clubs banked around £11m of National Lottery cash as grants in the first three months of the delayed 2020/21 season.
'With precious public money, we are providing financial support to the National League Steps 1 and 2 in the form of loans,' Huddleston said.
'However if clubs at those levels can demonstrate it needs grant funding urgently to survive, we will ensure that option is available.
'We will not let clubs go to the wall. Applications will be assessed by the independent board, through the same rigorous process that we apply to other sports.'
The National League last Friday suspended fixtures at South and North level for a fortnight after clubs said they were unhappy at taking on loans.
If no Government U-turn is forthcoming, the majority of clubs in the sixth tier will almost certainly vote next week to finish the season.
They will put their squads on furlough, which could end up costing the Government more money than if they'd carried on paying grants.
Clubs at steps 3-6 will share £10m of grants, but with 850 clubs playing across the four steps that does not work out at a huge sum per club.
The funding to those four steps - locally, the Southern Premier League down to Division 1 of the Wessex League - will be 'distributed quickly' to clubs through the Football Stadia Improvement Fund.
Clubs will be contacted directly by the Football Foundation with full details.