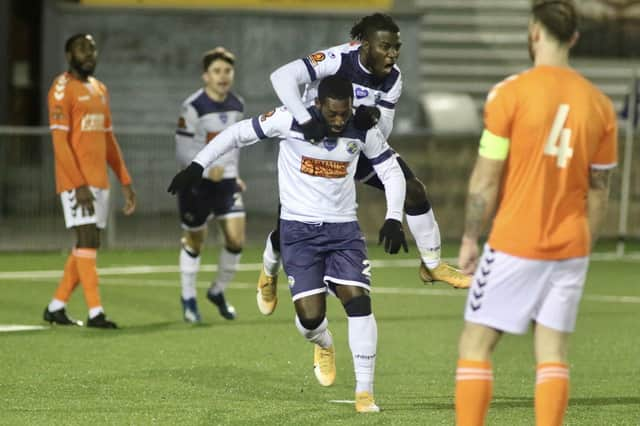 Roarie Deacon is congratulated by Daniel Ajakaiye after netting the FA Trophy winner against Braintree. Pic: Kieron Louloudis
They moved to within four wins of a dream day at the home of English football courtesy of a 1-0 triumph over fellow National League South side Braintree Town behind closed doors at Westleigh Park.
Substitute Roarie Deacon was the man who made the difference, striking 17 minutes from time to send Hawks into Monday's last 32 draw.
The two Trophy wins in the space of five days - over Bracknell Town and Braintree - have got the club dreaming of a potential Wembley trip.
Hawks' record in the competition has not been particularly great in the past few seasons, but they have reached the semis twice - in 2003 and 2014.
And despite admitting achieving promotion to the National League remains the priority, ex-Leeds midfielder Walton says it's a competition the club are taking seriously.
Walton said: 'For the lads to make it through to the fourth round is a massive boost for the club and for them.
'It's an opportunity to play at Wembley at the end of it.
'We're not going to have a play Liverpool or Man City to get to Wembley so it's a great opportunity.
'We'll take it serious, we want to win every game, but we'll use it sensibly and wisely as well - which we have done.
'We believe on our day, when we're at it, we're more than a match for any team - even in the league above.
'It's not that we're going to have to go to Anfield or the Etihad to try to get to Wembley.
'We're playing teams who we believe are of our level.
'It's a great opportunity and we'll be taking it as serious as anything.
'But our priority is to make sure we're in the highest level of non-league football come next season.'
Hawks were not at their fluent best as they made it into the fourth round.
Walton felt the tricky conditions, with the occasional torrential downpour, and the way Braintree set up played a part in the hosts not reaching their top performance level.
'We said we needed to win, by hook or by crook was the term used, and we did,' added Walton.
'We played the conditions to the best that we could.
'The conditions were never going to be conducive to an attractive, free-flowing game of football - particularly how they played and set up as well.
'We knew we'd have to be patient and we knew we'd have to concentrate all the way through because they were just looking for that one chance.
'Fortunately, for us, they didn't get it and we used the ball well enough at times.'