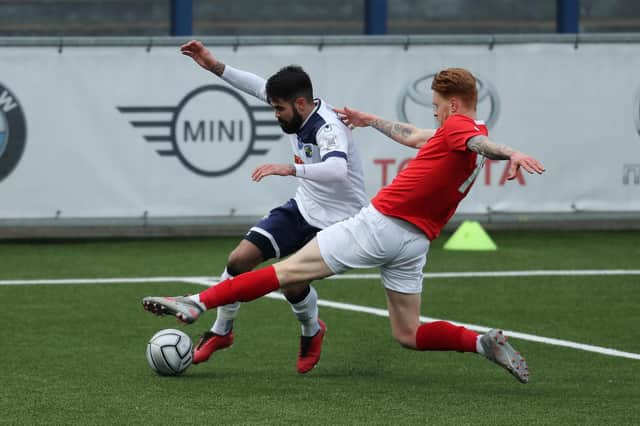 Aryn Williams, a non-contract player, is in Hawks' 14-man squad for the weekend trip to Chelmsford. Photo by Dave Haines
Manager Paul Doswell revealed the club have done all they can to ensure expenditure is at a minimum for their National League South trip to Essex on Saturday.
Hawks believe it is now only a matter of time before the both South and North division seasons are declared null and void.
Doswell claimed clubs from the two leagues could be given the news prior to the weekend's round of fixtures.
However, should they not be informed on the NL resolution vote result before then Hawks have made sure travel costs are at a premium for their trip on Saturday.
Doswell says it will involve a match-day squad of 14 players making the visit to Essex with Oxford United loanees Nico Jones and Leon Chambers-Parillon involved in that group along with non-contract duo Aryn Williams and Tony Lee.
Both Williams and Lee were handed their first starts in last Saturday's 2-1 home loss to nine-man Ebbsfleet United.
Doswell said: 'It will be a situation where we may not get to Saturday, but if we do get to Saturday I don't believe it'll be many hours or days after that.
'The last four weeks have seen the money dwindle every week. We've taken the decision to go with a much slimmer squad and play the loan players, the non-contract players and save as much as we can this week.
'We didn't want to be fined for not fulfilling a fixture or expelled from the league which was thrown around earlier on for not fulfilling a fixture.
'We've stayed within the league rules by doing what we've been doing and we'll do exactly the same on Saturday.'
Doswell just wants to see his 'most difficult' season as a manager now put to an end.
Some clubs across the National League are still to submit their season resolution vote which is delaying a conclusive decision over the current campaign.
But Hawks are hoping they are finally given an answer in the next few days.
'It's like the slowest of slow deaths. I think in reality we've known this for at least two to three weeks, if not four,' Doswell stated.
'It's probably the most difficult season that I've ever had as a manager. It doesn't matter if you win or lose because it's either going to finish Saturday or it'll finish the following Saturday.
'The most important thing out of all of it is that the club can bounce back financially when we all think it's all going to be worthwhile and we do think crowds and some normality will be back.'