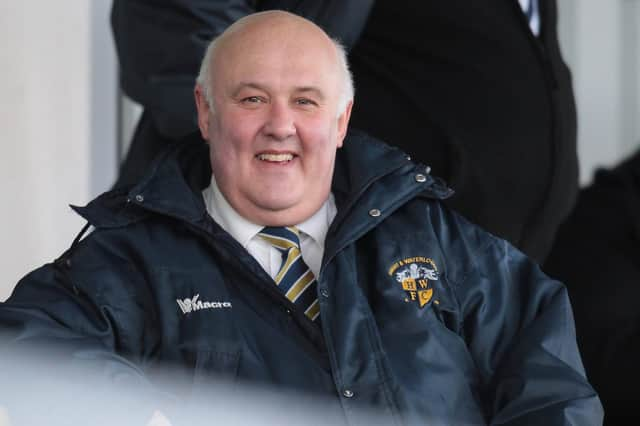 Hawks director Trevor Brock. Picture: Dave Haines
Crucial funding for clubs in the fifth and sixth tiers of the English pyramid while matches remain behind-closed-doors has been divided into four separate amounts.
The Hawks fall into the category of teams in the North and South sections receiving the smallest sum of £30,000, which will come from the National Lottery fund.
Five clubs across those two divisions - Maidstone United and Dulwich Hamlet from the National League South - will receive a slightly higher sum of £36,000.
But funding is up to three times higher for teams in the National League, though.
Seven clubs will be handed £95,000 until January while the 16 others sides in the division will receive £84,000 to compensate with matches across the National League remaining behind-closed-doors.
Hawks director Brock is thankful the government have stepped in to offer a much-needed support package for struggling clubs across the three divisions.
But he has questioned why some teams will receive up to three times what the Hawks will be handed of the £10m financial package.
'We've been provided with no explanation as to why those sums have been agreed, having said that, we're very grateful,' said Brock.
'It's relieved an awful lot of problems for the teams so I think the overwhelming thing is relief that some of the money can be made up that's been lost through not receiving any gate money.
'The other thing is probably the massive, massive difference between the South Division and the National League.
'Why clubs are receiving three times the size of what we're getting, I'm not sure.
'We always advocated it should be done on the wages you pay.
'It then moved onto something to do with attendances, we've never quite worked out how that's come.
'Looking at the clubs on the list, I think it is the attendances that have been used to pay clubs more money.'
Brock believes some clubs receiving the amount of £30,000 will actually be making a profit over the course of the next three months.
But he also highlighted others, some collecting the highest amount available, would still be losing out on what they would receive on a normal match-day.
Yet Brock admitted National League clubs can have no complaints and should be grateful some kind of financial support has been made available.
'I would have felt more comfortable if everyone had got the same,' he admitted.
'They've made no attempt, as far as I can see, of deciding it on expenditure which would be the logical thing.
'They'll be some clubs who with the £30,000 per month will be making quite a profit.
'Whereas other clubs towards the top end will be making a loss.
'But this has been something that lots of people have had sleepless nights about.
'Obviously, the players will be very grateful because they won't be in a position where they will lose out - at least for three months.'