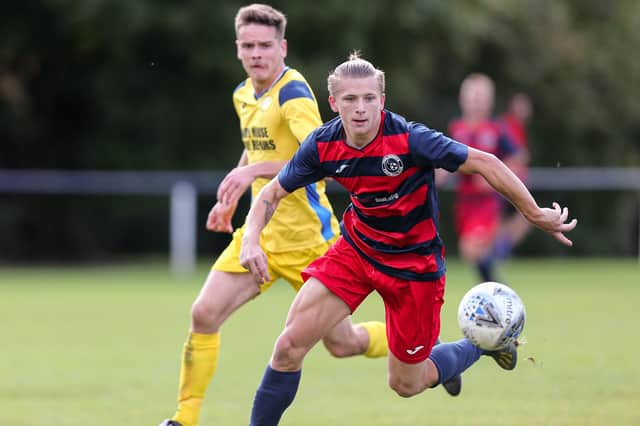 Zak Willett has scored over 50 goals for Paulsgrove and Southsea United in 2020/21, in just 27 appearances. Picture: Chris Moorhouse
Deans boss Michael Birmingham has brought the youngster to Five Heads Park after a stunning 2020/21 season with both his current Hampshire Premier League club and in the Portsmouth Sunday League.
Willett, 19, has netted 55 times in only 27 matches this term for Grove and Sunday side Southsea United - and neither side's campaigns have finished yet. He has only failed to score in one of those games.
Birmingham watched his new recruit score twice in Grove's 4-1 L4 Teamwear Challenge Cup victory over Denmead on Tuesday.
He believes Willett will have no problem making the jump up two divisions from the HPL to the Wessex League Premier.
In fact, Birmingham reckons the teenager could continue his move up the non-league pyramid - should he be a willing learner.
Birmingham insisted: 'I believe he'll be using us as a stepping stone.
'It's all down to the boy and how much he wants to listen, learn and take on board.
'He's an honest boy, he's a very, very quiet boy, the chats went well - I think he nodded three times and blinked about five times!
'What he's got is unbelievable blistering pace, his goal ratio speaks for itself - it doesn't matter what level you play at, if you score 55 goals per season you're going to get added interest.
'He's got such raw ability that I believe once we get our hands on him and coach and guide him, I believe he'll be leaving Horndean for a higher level.
'He's going to be a very, very exciting player and someone I'm very, very excited to be working with.'
Birmingham thanked Paulsgrove boss Wayne Grant for the easy negotiations - and praised him for his work with the striker after plucking him from Sunday League football last summer.
The Deans boss revealed he has had his eye on Willett for 'around 18 months' but is pleased to see the work Grove have done developing his game.
Birmingham said: 'I watched him on Tuesday and he's got unbelievable pace. There are certain aspects of his game we need to tweak, but having said that I think most of it's been done by Paulsgrove because they were very, very good against Denmead the other night.
'They work very, very hard, he's an honest boy, he's got a great work rate and he plays the game the right way.
'I phoned up Granty (Wayne Grant) and he was absolutely superb, he let him come and speak to us, Granty's exact words were, 'Horndean is the right club for him.'
'It's been great and it's nice to work with a manager who isn't just in it to win a trophy and have it as their social media background.
'It's nice to know he's there to develop these young players as well.'
Horndean have also completed the signing of 18-year-old Michael Baker from Isthmian League Premier Division Bognor, while Birmingham revealed all of his current squad have already committed to the club for 2021/22.