Horndean United keen to one day return to county football
Horndean United are keen to one day return to county football.
Thursday, 1st April 2021, 11:34 am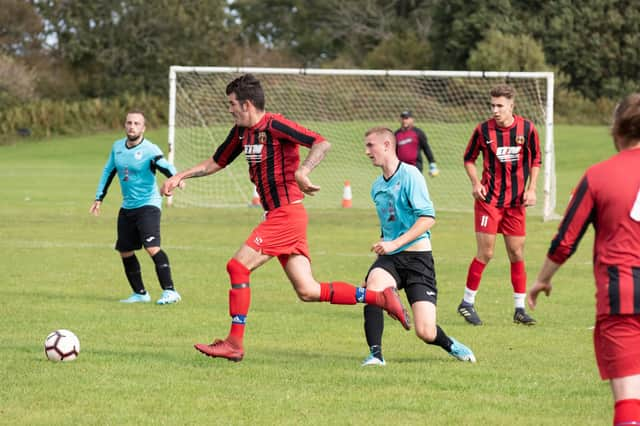 Horndean (red/black) in Mid-Solent League action against Burrfields in the 2019/20 season. Picture: Duncan Shepherd
Formed in 1987, the club had a few seasons in the old Hampshire League 2004 before withdrawing at the end of the 2011/12 season to rejoin the Portsmouth League.
They have been in the Mid-Solent League ever since its inception in 2017, and restart fixtures this weekend against Rowner Rovers.
The 13-team league has been split into two with the top seven teams prior to the mid-December lockdown in Division 1 and the remaining six - including Horndean - in Division 2.
Horndean (red/black) v Harvest in Mid-Solent League action in 2019/20. Picture: Keith Woodland
The club have just one Saturday team but run three on a Sunday - two in the City of Portsmouth Sunday League and a veterans team in the Meon Valley League.
Secretary Lewis Charlton - whose dad Steve was a founder member of the club - said there are plans to grow United as Saturday football appears to be growing in popularity once again.
'A few years ago we went down from two teams to one, and there was a real decline in Saturday football,' said Charlton.
'But it's starting to get a bit more popular again.
Horndean (red/black) v Harvest in Mid-Solent League action in 2019/20. Picture: Keith Woodland
'I'm on the management committee of the Mid-Solent League and we've got two, possibly three, new teams for next season.
'We need to build our player base first. We've had an upturn in players this season but before that it had been pretty samey for seven or eight years.
'Our aim is to possibly add another Saturday team with a view to stepping up (to the Hampshire Premier League), like Baffins have done and Harvest more recently.
'We feel we have trodden that path before, and know what's involved in it.
'But it won't be easy - we need to get things right on and off the field first.
'Adding kids teams and possibly a girls and ladies team are things we are definitely looking to do.'
Horndean have played home games at Havant Academy in recent years, but return to action after lockdown in the plusher surroundings of Hawks' Westleigh Park stadium this weekend.
They have booked the ground for all four of the remaining MSL home games - the others are against East Lodge, Carberry and Segensworth.
This weekend's game with Rowner kicks off at 6pm as Burrfields are hosting Mob Albion in a Division 1 match earlier in the day.
Booking Westleigh Park was an obvious route to take as the club have trained at the stadium all season - Chris Cooper, part of Horndean's Sunday management team, is involved in the Havant & Waterlooville Academy.