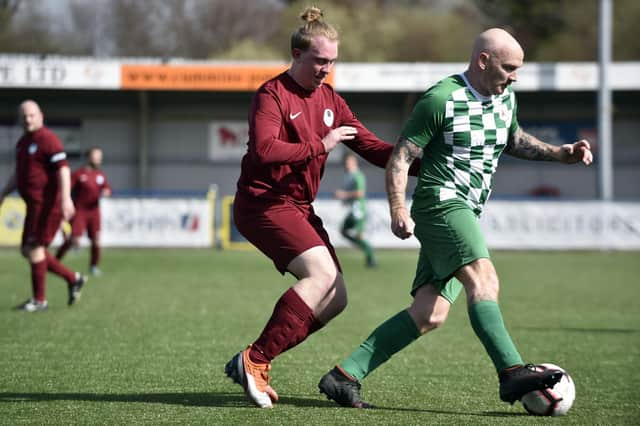 Callum French (Burrfields, maroon) keeps a close eye on Mob striker Andy Brown. Picture: Allan Hutchings
Mob have chosen to play their remaining four home games on the 3G at Westleigh Park - starting with a 6pm kick off against FC Strawberry.
It's a contest that pits second against third and promises to be a competitive encounter if the first game between the sides is anything to go by.
Mob won that match 3-2, scoring a last-minute winner when they were down to 10 men due to a sin binning.
Mob Albion striker Andy Brown slides in to challenge Burrfields keeper Dwayne Gray. Picture: Allan Hutchings
'We only had eight on the pitch at one point,' recalled Bone. 'We had five players in the sin bin that day.'
Prior to lockdown, Mob played home games on the grass pitch at Havant Academy.
But now they've decided to spend big - at £125 per game - to enjoy the bigger surface at Westleigh Park.
They got a taste for their new 'home' at the weekend when they came from behind to beat 'hosts' Burrfields 3-1 at the stadium.
Mob Albion's Jon Byerley wins this header against Burrfields. Pic: Allan Hutchings
'We look a completely different team on the astro,' said Bone.
'But it will benefit both teams next weekend. Strawberry like to get the ball down and play.
'They outplayed us for 20-25 minutes when we played them before, and that was on the astro at Cowplain.'
Regarding the win over Burrfields, Bone said: 'We probably created more of the chances - we had a few 'rusty' strikers!'
James Gurney (green/white) in action during Mob's 3-1 Mid-Solent League win against Burrfields at Westleigh Park. Picture: Allan Hutchings
Mob dominated the 'shots on target' and 'shots off target' categories, but in the end needed a late third from sub Cam Palin before they could truly relax.
Burrfields boss Brian Kirby said: 'We lacked composure on the ball - we couldn't find that killer pass in the final third. That was the most disappointing thing for me.
'Mob play football the right way, they controlled the game and we were up against it.
'They probably deserved the win, they were the better team on the day, but we felt it was a lost opportunity for us.
'We didn't trouble their keeper enough.
'We try to play the right way, we do a lot of two-touch and passing drills in training, but it was a shame we didn't see that. There were some lazy, sloppy passes.
'We will be concentrating on passing drills when we return to Westleigh Park on Tuesday for training.'