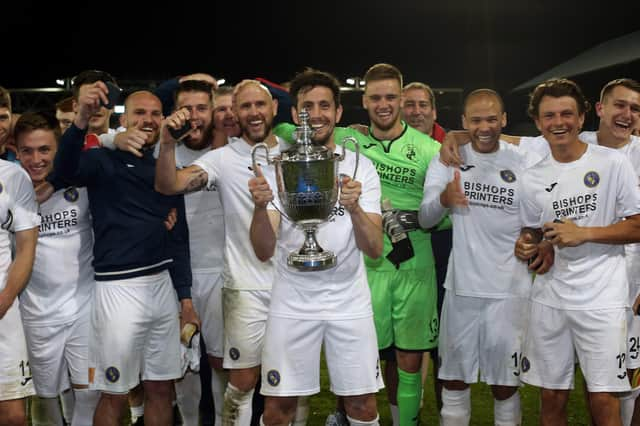 Hawks celebrate winning the Portsmouth Senior Cup final against AFC Portchester in May 2018. The 2019/20 tournament will be played to a finish once lockdown restrictions are eased at the end of this month. Picture: Chris Moorhouse
But their six cup tournaments from 2020/21 won't be completed in the spring, though the competitions have not been officially scrapped.
AFC Portchester Sunday are due to play Gosport, Fareham & Solent Sunday League club CJ Glass in the 2019/20 Victory Cup final, while Waterlooville Social Club have a Veterans Cup final date with Paulsgrove.
In the Portsmouth Senior Cup, holders Moneyfields are due to play Fareham Town in the outstanding semi-final for the right to take on Baffins Milton Rovers in the final.
The six 2020/21 competitions - the Victory Cup, the Intermediate Cup, the Trophy, the Plate, the Veterans Cup and the Women's Senior Cup - are all at the quarter final stages,
A decision will be taken - most likely next month - as to how to bring them to a conclusion.
PDFA official Robert England said: 'The advice from the Hampshire FA was to seriously consider not holding the 2020/21 cups (after lockdown) unless they were at the semi-final or final stage.
'It was felt it was better to give the Sunday leagues and the women's league the chance to prioritise and complete their league seasons.
'We'll probably decide in a committee meeting next month what we're going to do with them.
Playing them to a conclusion after 2021/22 starts is one option, though England it might be 'difficult' to then run the same competitions for next season as well.
Alternatively, the games across the six tournaments could be played in July or August as part of the pre-season preparations.
Victory Cup QF: North End Cosmos v Purbrook United, Village Home v Milton Rovers,
Walkover: Jameson Arms (AFC Portchester withdrawn).
Intermediate Cup QF: Lee Rangers v Freehouse, FFC v Old Boys Athletic, FC DTEC v Gosport Lycans, Dingle Rovers v Waterlooville SC.
Trophy Cup QF: AC Copnor v Duke of Connaught, Southsea United v Co-op Dragons, Freehouse A v Cross Keys Athletic Reserves, AFC Gosport v Bridgemary Borough Colts.
Plate Cup QF: AFC Fairfield v Al's Bar, Sands United v AFC Trades, Titchfield v Horndean United, Portsville Park v Shepherd' Crook Panthers.
Veterans Cup QF: Burridge AFC v Lord Chichester, AFC Portchester v Bishops Waltham, Moneyfields v Paulsgrove, Waterlooville SC Reserves v Waterlooville SC.
Women's Senior Cup: Shanklin v Meon Milton, Portsmouth Ladies v Widbrook United.
Walkovers: Moneyfields, AFC Portchester.