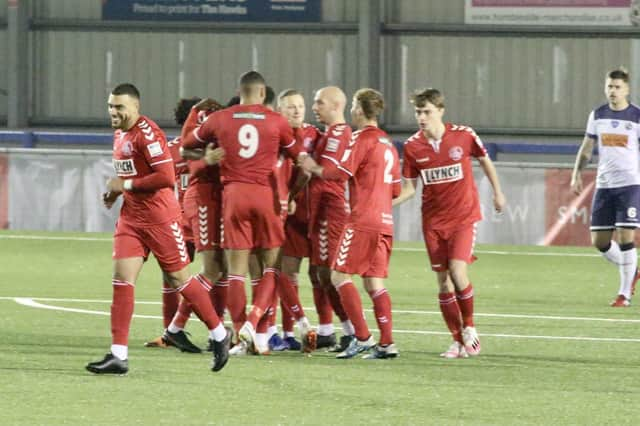 Hemel Hempstead celebrate a goal during their 3-2 win at Westleigh Park in December. Pic: Kieron Louloudis
After the sixth tier's two-week suspension is lifted this weekend, Hawks are set to return to league action at Hemel Hempstead next Tuesday.
It will be only Hawks' fourth league game of 2021 if it goes ahead.
Hemel are one club that are keen to complete the season, even if they have to take a Sport Winter Survival Package loan to help them do so.
Tudors boss Lee Bircham said: 'I don't see the problem with games carrying on. If you can't afford certain players then there are plenty who would play for nothing.
'I am sure if I sat the group I have got in a room and said 'we can't afford to do this, would any of you play just for expenses?' I reckon 80 per cent of the lads I have here now would do it just to be able to play football.
'We have all been involved in football our whole lives and for the league to be stopped because of money and funding is soul destroying to be honest.'
Hemel are due to return to league action against Concord Rangers this weekend, but the latter's chairman Ant Smith has taken to social media to say his club will still not play matches while the funding situation remains unresolved.
It's a situation that has left Tudors boss Bircham bemused.
'In my personal opinion, I think we need some leadership somewhere down the line,' he said.
'There needs to be a line drawn in the sand and the league needs to come out and say something regarding these games that are supposed to be played.
'Every club has their own agenda and rightly so, they have to look after themselves.
'Our situation is different to others, the chairman planned for this sort of outcome and others haven't.'
'Are some clubs really going to down tools for 28 days? I am sure if someone from on high said 'if you don't play you will lose points' then some clubs would change their stance.
'We just want some clarity, that's all anyone wants.'