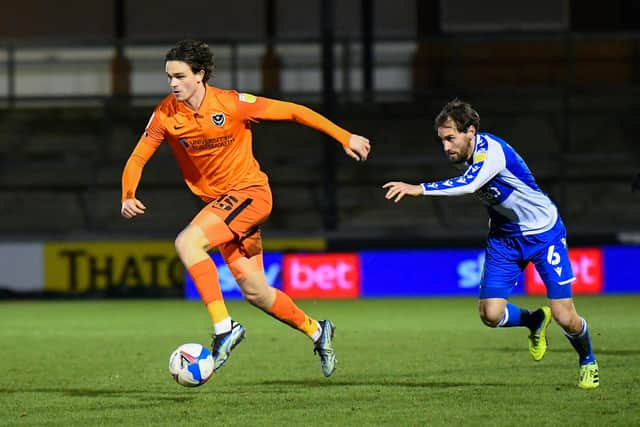 Rasmus Nicolaisen at Bristol Rovers tonight
The defender acknowledged a Rovers side winless in 10 games were the hungrier team as Pompey fell to a hapless 3-1 defeat tonight.
Nicolaisen knew defensive errors were at fault as the Blues gave away weak goals due to individual errors at the back at the Memorial Stadium.
The Dane was introduced at the interval as part of a triple change, after Pompey gave away a first-half advantage and went in 2-1 down.
Things got worse after a gaffe from Sean Raggett in the second half led to Luke Leahy sealing the victory from the penalty spot.
Pompey remain in fourth - four points off second place - after the loss, but Nicolaisen can see there can't be further slip-ups of this nature if the team are to succeed this term.
He said: 'It was their game - and we got into their game.
'We didn't play our own game. We felt in the first half they wanted it more than us. That's not how it should be.
'It isn't like us to make mistakes. We've been good and show good character in so many games.
'No team can have results like that at the top, though.
'There's a big pressure on all the teams in the league. If you want to be at the top you need to be sharp - a lot sharper than we were.'
Pompey started the brighter side and saw John Marquis put his side in front in the 26th minute.
But they soon lost their way with former Hawks striker Jonah Ayunga bagging a double.
Nicolaisen felt his side failed to play to their strengths.
He added: 'Maybe we should have played it more simple, played down the side and put in crosses. That's where we're usually dangerous.
'But we made it too hard for ourselves.
'It wasn't an easy pitch to play on, so we needed to be clever and play the simple game.
'But we'll bounce back though, and have to put this result right at the weekend.'