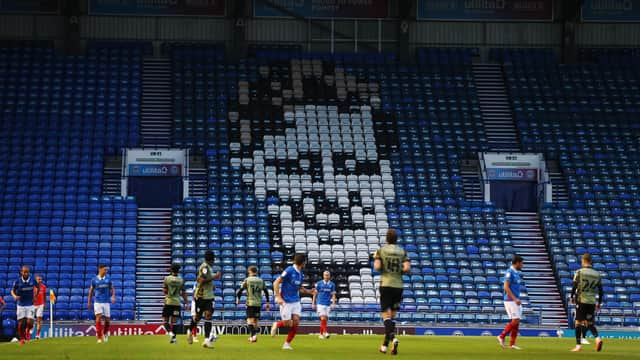 Jimmy Dickinson's face is immortalised on the seats in Pompey's Fratton end
Now respected former M&Y News Agency reporter Pat Symes has revealed how the Blues legend allowed him to pick a Pompey team – on two occasions.
With Pompey fighting to remain in Division Three, he instantly steered them to three points from a possible four to retain their status with a match to spare.
Dickinson's time in charge spanned almost two years, including relegation in 1977-78, before being forced to stand down following a heart attack in March 1979.
And Symes, who spent four decades covering the Blues for national newspapers, fondly recalls the times Dickinson consulted him over team selection.
As part of an occasional series, he told The News: 'We told Ian St John that we understood Jimmy Dickinson was taking over from him as manager and he said "Jimmy Dickinson? Christ".
'Jimmy became Pompey manager because Deacon didn't have the faintest idea of what to do when St John had gone.
Pompey legend Jimmy Dickinson served the club as a player, manager, secretary and other roles during more than four decades at Fratton Park. Picture: Lemmon/Daily Express/Hulton Archive/Getty Images
'They appointed him because he was on the spot, he didn't cost them any money, it was as simple as that.
'He was a gentle, pleasant, Hampshire countryman from Alton who liked his pipe. Such a fabulous guy, everybody liked him, a personable fellow who took an interest in other people.
'Mind you, Jimmy used to take advice from all sorts of people, including me when picking two Pompey teams!
'You couldn't do it now, but as a journalist I could ring him on a Friday morning, about 9am before training, and he would tell me all sorts of things.
'Often you would say "What's your team going to be". He maybe wouldn't tell you the exact line-up, but would helpfully point you in the right direction. That's the sort of man he was.
'On one occasion, he said something like: "I'm not quite sure about Peter Denyer here and whether to play him. What do you think?".
'I replied: "Try him on the left side, he seems to have a decent left peg". To which he responded, "Yeah, that's not a bad idea".
'The next day when we got to the ground, there it was, my team! I thought "I picked that one" – and Pompey collected an unexpected point against Chesterfield or someone.
'Jimmy did the same the following week, picking my brains a second time, I think he just wanted another opinion, the poor fella.
'That ended up being a defeat. So my Pompey record as manager is a defeat and a draw!
'It's incredibly really when you think about it, a manager asking a reporter what he should do for his team.
'Poor old Jimmy, not only was he thrust into a job he didn't really want, but he also got players that he knew nothing about, inheriting a dreadful team.
'He was bailed out later by the arrival of Frank Burrows as coach, who revolutionised the place.'
In March 1978, under Dickinson's reign, fans' favourite Dave Kemp left Fratton Park for Carlisle.
Pompey received John Lathan in part-exchange, although the midfielder struggled to make a positive impact during his time on the south coast.
However, according to Symes, Lathan was actually signed by Dickinson by mistake.
Instead he thought he had captured Carlisle team-mate and former Rangers man Phil Bonnyman.
Symes added: 'There is a story, told to me, about how Jimmy signed the wrong player.
'He recruited John Lathan from Carlisle, who was absolutely useless, when he actually wanted Phil Bonnyman, a much more cultured player.
'They signed Lathan in March 1978 and what distinguished him from Bonnyman, was that Bonnyman not only was a decent player but had a big mop of curly hair.
'Dickinson apparently said afterwards "Do you know, I always thought Phil Bonnyman had curly hair?".
'He was told: "That's not Bonnyman, Jim. We've signed John Lathan".
'The record books will show you that Lathan played 62 games for Pompey with a complete lack of distinction.
'Lathan was a lower-league trundler, while Bonnyman had a bit of class about him.
'I don't think he had a great career, but he could have done, he was good enough, a lot better than Lathan, put it like that.'
A message from the Editor, Mark Waldron
On Saturday, March 13 Pompey will finally get their day at Wembley.
To celebrate the Blues' place in the rearranged 2020 EFL Trophy Final, The News has launched an offer that gets you 25% off all our Sports subscriptions.
You can choose your perfect Sports subscription here and use the discount code ROADTOWEMBLEY25 to get the latest news from Fratton Park for less. Offer runs until midnight on March 15.