The Clanfield builder who became a Brentford footballer - ex-Portsmouth man bounces back from Fratton Park heartbreak
It began with an Instagram message. Within 11 days the Clanfield builder was a Brentford footballer.
Thursday, 11th February 2021, 6:00 pm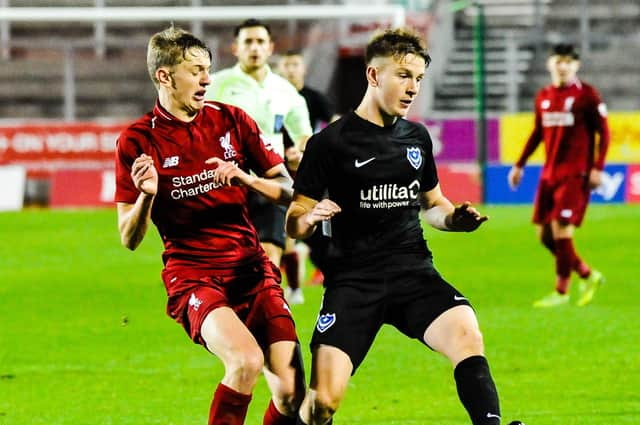 Ethan Robb on Pompey Academy duty against Liverpool in the FA Youth Cup in December 2018. Picture: Colin Farmery
Ethan Robb is still readjusting to seismic life changes which exceed even his infectiously positive mindset.
Pompey rejection last summer had failed to dim the dogged 18-year-old's aspirations in pursuit of a professional career in football.
Following trials at Moneyfields and Portchester, the talented central defender was snapped up by Bognor in August for their Isthmian League campaign.
Combining his non-league commitments with full-time employment at Thornton Builders, Robb harboured hopes of a rapid return to the Football League environment.
Yet he couldn't have foreseen the treasured opportunity arriving following just 13 appearances with the Rocks – and initiated through an agent's approach over social media.
At the end of January, a week-long trial at Brentford convinced the high-flying Championship club to take the former Horndean Technology College pupil on loan for the remainder of the season.
After handing in his notice to the day-job boss, of course.
Ethan Robb (second left, front row) spent two years as a scholar at Fratton Park. His intake included Haji Mnoga (Back second left), Alfie Stanley and Harry Kavanagh (both back middle). Picture: Simon Hill/ Portsmouth FC
Robb told The News: 'It has been a bit of a whirlwind, to be fair. I've gone from working as a builder to two weeks later being a pro footballer again. Crazy.
'My dad, Tony, is a floor layer and knows people in trades. We had the discussion that if football didn't work out, would working as a labourer be a possible route I could go down in terms of making a decent living earning decent money?
'To be honest, I was never that keen, but I'm not the kind of person who sits around at home doing nothing. I wanted to be active.
'I suppose, being a footballer, you are outdoors all the time, so I had no qualms about getting my hands dirty.
Ethan Robb made 13 appearances for Bognor before earning a loan move to Championship side Brentford. Picture: T Staff
'Dad spoke to a neighbour, Clive Thornton, who owns Thornton Builders. There was a bit of work for me and it became my full-time job for almost four months.
'I was playing for Bognor, training twice a week plus games, while doing building work to earn me a bit of extra money and help pick up a few life skills.
'One job involved putting down a new garden patio in a house in East Meon, while in Clanfield we were renovating the garage of a house to become a room.
'There were three of us, although I wasn't the best at it, to be honest! It was never something I could imagine myself doing. I just did it because it was something to do and gave me the chance to learn a few things.
Ethan Robb was part of a Pompey XI side which faced Aldershot in a pre-season friendly in July 2019. Picture: Habibur Rahman
'At the same time, it was a difficult decision to take up building as I didn't want to give up on being a professional footballer. I couldn't accept that it wasn't happening any more.
'Football's my number one and the boss understood that. Clive was happy for me to leave for Brentford, he knew I had come from a footballing background.
'I had made him aware it remained my dream. It still is.'
Robb's pathway into the professional game has long been unorthodox.
He was a late arrival into Pompey's ranks, joining at under-14s level after initially spotted in youth football.
As a promising player, he progressed through Cowplain Youth's age groups, where he later counted Liam Kelly, the son of Blues Academy head Mark Kelly, among team-mates.
Ethan Robb (centre) on GCSE results day at Horndean Technology College in August 2018. Picture: Malcolm Wells
Kelly senior soon noted Robb's ability while checking on his son in matches, recommending him to Pompey's development centre.
Then, in 2015, he was accepted into the Blues' Academy following a successful six-week trial, before earning a two-year scholarship in an age group which included Haji Mnoga, Alfie Stanley, Harry Kavanagh and Eoin Teggart.
However, upon graduation, he was not retained, departing Fratton Park at the end of last season and challenged to seek footballing opportunities elsewhere.
He added: 'I was pretty 50/50 about whether I would be staying. Pompey never gave too much away in terms of what was happening to anyone.
'Certainly I was hopeful of getting a contract, especially after my second season, in which I was captain quite a lot when Harry Kavanagh was out on loan. I thought I'd had a good year.
'However, I'm realistic. It's a hard profession and they were only going to take on one or two players. I never got too far ahead of myself expecting to make it there.
'When it came to our final meetings in March/April time, I was told I wouldn't be going any further. They said I had done well, but it was the end of the road.
'To be fair, Pompey were always very good in making us see sense in how hard football is and that chances are limited, wherever you are.
'It was tough being released. I was upset at first, you keep asking yourself "What am I going to do?". You almost panic.
'You've had two years as a scholar and lived the dream – then head into a big world where all of a sudden you almost have nothing.
'I took a bit of time to think about what I wanted to do next. It's almost like pressing the reset button, telling yourself "Okay, it's a knock back, but it's not the end of the world, there's still a lot more to football".
'What's more, with the covid situation, nobody actually knew what was happening with football. Clubs were going back at different stages.
'I trained with Moneyfields, while played a couple of pre-season games for Portchester. Of the two, Portchester was more of a draw, despite being in the division below. I liked the fact they were chasing promotion from the Wessex League Premier Division.
'My girlfriend and parents stressed that it was important to aim as high as I could and possibly work my way down, instead of starting low and climbing back up.
'Then I got a phone call from Robbie Blake at Bognor – and took that advice.
'I kind of knew him from his time as Pompey's first-team coach and he told me he wanted to have a look in training. I then signed a deal for the season.
'I knew if I could prove myself at that level it would get people talking, maybe attract a bit of attention. Possibly there would be opportunities for me.
'After leaving Pompey, it was about trying to stay positive, keeping a level head, and hopefully getting somewhere else and proving them wrong.'
Following five pre-season appearances for the Rocks, Robb started their opening match of the Isthmian League Premier Division season at Bishop's Stortford in September.
He featured in midfield, having possessed a natural flair for both that role and the centre of defence ever since his formative years in football.
However, that same match, Joe Cook was dismissed for a second bookable offence five minutes from time – and, once suspension kicked in, Robb reverted to centre-half for the remainder of his Nyewood Lane time.
Establishing himself as an ever-present in Jack Pearce's team, a 2-1 defeat at Maldon & Tiptree in the FA Trophy in mid-December would prove to be his final appearance of the season.
Bognor themselves have yet to play again and it remains to be seen whether their campaign will resume as clubs debate over scrapping the season.
As for Robb, with his Brentford stay now extended, he has settled into an apartment near their Hounslow training ground, sharing with fellow B-team player Wraynel Hercules.
He said: 'At the end of January, with league suspended, I wasn't even training with Bognor. Instead I worked on my own fitness programme.
'Then, on a Friday, I received a direct message on Instagram from an agent who basically told me he had an opportunity that he thought I was interested in.
'Apparently he had tried getting my number, without success, so ended up messaging me like that. Random.
'It turned out the agent had taken a lad from Worthing, Fin Stevens, to Brentford in July and was continuing to keep an eye out for young players in non-league football.
'He saw me at Nyewood Lane against Margate in October and decided to tip off Brentford. As it turned out, they supposedly had been watching me anyway.
'What's more, they wanted me to go there in three days' time for a week-long trial!
'I was put up in the Park Grand London Heathrow and appeared as a substitute at Wycombe and then involved in the full match against Hemel Hempstead.
'The agent contacted me to say they liked the look of me. Then it had to move pretty quickly as the deal needed to be done before transfer deadline day on February 1.
'Now I'm on loan until the end of the season. It's to have a further look at me and, as long as I can give all I've got and get my head down, then hopefully I can earn a permanent deal at the end of it.
'Brentford don't have an Academy. It's called a B team, but is their equivalent to an under-23 squad. We're at the same training ground as the first-team, training on the pitch next to them.
'You learn from past experiences and, having been released by Pompey, I try not to get too carried away with things.
'I have to stay focused, keep a level head, yet the fact remains it's a loan move which gives me the opportunity to prove myself and hopefully get a longer deal.
'The only thing I've dreamt of since a little kid is being a footballer, having that again really is living the dream.
''In football you get a lot of setbacks, it's how you bounce back which is important.'
A message from the Editor, Mark Waldron
The News has launched a new subscription offer which gives you unlimited access to all of our Pompey coverage, starting at less than £1 a week.