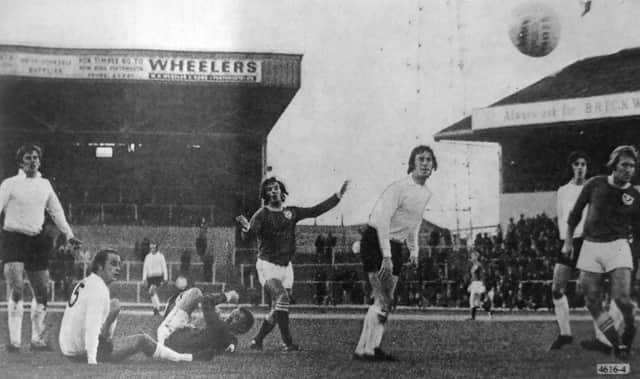 Norman Piper, centre, shoots narrowly over against Luton at Fratton Park
The Blues had allowed their long-serving midfielder to play in the flourishing North American Soccer League in the summer of 1977.
Representing Ron Newman's Fort Lauderdale Strikers, they progressed to the NASL play-offs, where they encountered New York Cosmos.
A record crowd of 77,691 were packed into the Giants Stadium for the first leg against the star-studded Cosmos, who featured a host of international quality performers.
In a 2015 interview for Played Up Pompey, Piper reflected on that subsequent 8-3 defeat for his team, who had Gordon Banks in goal.
However, he will always treasure attracting opponent Pele's praise for a stunning finish during the loss.
'As I jogged back towards the halfway line I noticed Pele beside me, glancing over with a smile before uttering "Good goal, good goal, good goal",' he told Played Up Pompey.
'I will always remember that, this country boy from Devon playing against Pele. Oh my gosh. It was a good goal too, a left-foot screamer across the keeper, although we still lost 8-3.
Norman Piper was inducted into Pompey's Hall of Fame in February 2012. Picture: Sarah Standing
'There was a record crowd of 77,691 packed inside the Giants Stadium for that NASL play-off first leg against New York Cosmos in August 1977.
'My team, Fort Lauderdale Strikers, were managed by ex-Pompey midfielder Ron Newman and had Gordon Banks in goal, but we were still hammered.
'Among New York's scorers were Giorgio Chinaglia (three), Steve Hunt (two), Gary Etherington, Tony Field and a certain Franz Beckenbauer, not Pele though, nor Carlos Alberto. You could see what we were up against.
'I had spent the summer playing football in America, although it overlapped with the start of our Division Three season, making me unavailable for the first four fixtures.
Norman Piper takes a shot at goal against Hull at Fratton Park in Division Two
'Still, when I was released from Pompey seven months later I would return to America for good.
'It was my choice to leave Fratton Park in March 1978 following eight years, 356 games and 57 goals. You get stale after a while.
'I needed a fresh challenge, I had just turned 30 and believed I had been at Pompey long enough and couldn't do any more. The manager, Jimmy Dickinson, agreed.
'With hindsight, I wish I had stayed and got another club in England before moving to America, I should have played another two or three years back home. I would do it differently if I had the chance again.
'Yet it was right to leave Pompey, this was a new opportunity, the money was quite good out there and in my short profession you have to get as much as you can, while you can.
'Up until that fixture against Pele and Co, one of the biggest crowds I ever played in front of was 39,659 at Fratton Park when Arsenal visited in the FA Cup fourth round in January 1971.
'That was during my first season at Pompey, although my May 1970 move nearly didn't happen after I backed out as it wasn't enough money!
'I had caught Ron Tindall's eye while guesting for a Weymouth XI in a benefit match for their players Alex Jackson and Tony Hobson against Pompey in April 1970.
'Weymouth lost 2-1, with Tindall making his last appearance as a player, but I'd done enough to convince the Blues to make an offer to Plymouth Argyle for me straight after the game.
'So I held talks with him and George Smith, but it wasn't right, so I walked out of the office.
'They said "Where are you going? Where are you goin?". I replied "I'm going home, I'm driving back to Plymouth, the money's not right".
'So I returned to Home Park and the manager, Ellis Stuttard, was stood there with a fag in his mouth and said "What the hell are you doing here?".
"I'm not going", was my response, to which he said "But you've got to go", so I said "Well, why is that?". Studdard replied: "We need the money!".
'Basically they had to sell me otherwise they would go under, so I went back to Pompey a few days later and we came to an agreement, signing for £40,000, which equalled the club record set in January 1968 when Mike Trebilcock moved from Everton.
'I would be getting £45 a week, plus £10 for an appearance and £10 for a win bonus – and that club would be my home for the next eight-and-a-half seasons.'
Norman Piper made 356 appearances and scored 57 goals for Pompey from May 1970 until March 1978.