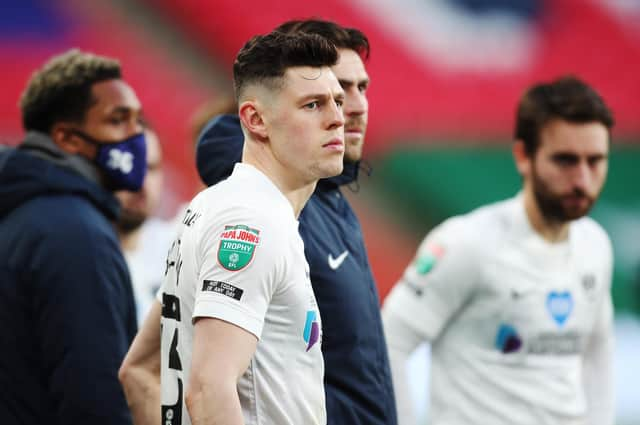 James Bolton looks on as Salford lift the Papa John's Trophy at Wembley
Here's some of the views expressed...
@PeterThurgood1: Pompey issues have now gone beyond Kenny Jackett
The players should be ashamed. If you won't play for the manager...play for the fans and the badge on your chest.
Disgusting. Appalling. Woeful. Sort it out before you lose the fans entirely.
@jamesfrowen: IMO Roy Keane. If we can get him. Him with the fans would be a great combination.
This content is brought to you in association with the University of Portsmouth
@d_raffan: Let's be honest, Jackett isn't going anywhere and if by some miracle we do reach the plays offs, he may even be offered a new contract!
First time in my life I've ever wanted us NOT to succeed.
Just hope we don't miss out on a really good replacement for KJ in the process.
@SarahwithLove22: Only good thing to come out of today is that we didn't travel all the way to Wembley to watch it. #Pompey
@ryanhoney9: A year on from THAT semi-final against Exeter. An abysmal performance today meant it counted for nothing...
If anything was going to turn our season around, a Cup Final would be top of the list, you'd think
C Mac and Close pick of the bunch. Struggle for form continues.
@BarneyBrazil: I used to travel the length & breadth of the country following Pompey, weekday nights up north, no problem....today my Daughter had to message me the result.
The club is dire, fact. No excuses.
@jeffharris_665: I've given up on this season we will not go up I honestly believe we wont whilst KJ is here hes got 2 hard games against sides pushing for promotion of this team cant motivate themselves to get up for these two games then it's gone Not knowing his best side is disgraceful.
@NathReed: Kenny Jackett making Richie Barker look like a better replacement more and more each week and that's saying something. #Pompey
@dannlimb: Remember when Nathan Thompson left for championship football and we all laughed at him. Well...#pompey.
@wobbs1962: The player's were clearly not up for that game, something is definitely wrong at the club, just get rid of jacket now.
A message from the Editor, Mark Waldron
On Saturday, March 13 Pompey will finally get their day at Wembley.
To celebrate the Blues' place in the rearranged 2020 EFL Trophy Final, The News has launched an offer that gets you 25% off all our Sports subscriptions.
You can choose your perfect Sports subscription here and use the discount code ROADTOWEMBLEY25 to get the latest news from Fratton Park for less. Offer runs until midnight on March 15.