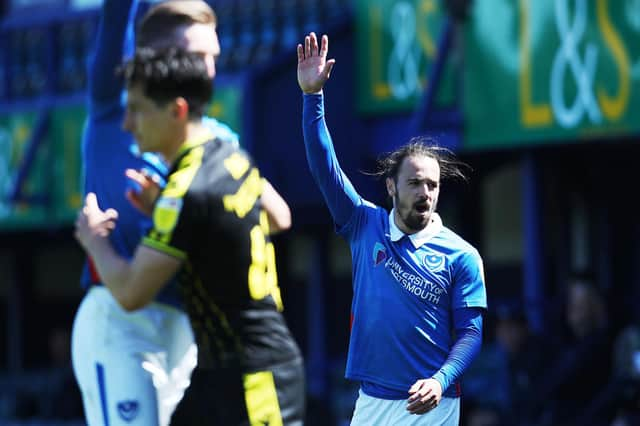 Ryan Williams operated in a left wing-back role as Pompey changed formation for the visit of Bristol Rovers
The Blues saw off Bristol Rovers 1-0 thanks to Ronan Curtis' 27th-minute strike.
Yet there was little else to get supporters off their sofas as the game proved far from a thriller.
Some fans were disappointed with that.
But others were just delighted to claim a win after three defeats and a draw in Pompey's past four outings – and send Joey Barton's side down to League Two.
Here's a selection of the views shared in Twitter at the full-time whistle...
@PragmaticFrog: We take any win and call it job done.
That was our easiest game left, hardly fills me with huge confidence for the last 3/Playoffs, but on to the next!
@robert89__: Some good moments but a really frustrating watch.
Needless balls need a bit more composure.
Marquis and Harness missing. Close was off.
Thought Ramus and Byers played well. 3 points is all that matters.
@scottpompey: Win's a win, players obviously lacking confidence but got the W.
@pompey_goals: Good result Raggett my motm.
Feels great we sent Barton down.
@CivilFlyer23: Wasn't pretty, but job done.
@pompeyjacques: A fairly dull second half for Pompey but got the job done in the end.
Byers phenomenal, White superb, Johnson as consistent as ever.
Back in the top 6, and the sun is still shining. A good day to be alive.
@PompeyViking62: For 89 mins & 55 seconds, that game was mostly devoid of quality, control, and poise.
But, crucially, during a 5 second period in that game, Curtis and Byers hooked up with a delightful piece of play to score Pompey's winner.
@FrattonFaithful: A bit of a "nothing" half despite a couple of chances for Curtis and Marquis.
A win is a win, but barring a couple of decent individual performances there was nothing on that game to suggest Pompey will win their remaining three games. Rovers deservedly down.
@capfc11: Decent win, had some good opportunities to make it a bit more comfortable but 3pts and a clean sheet will do nicely.
Byers my MOTM but good performances from from Raggett and Curtis as well.