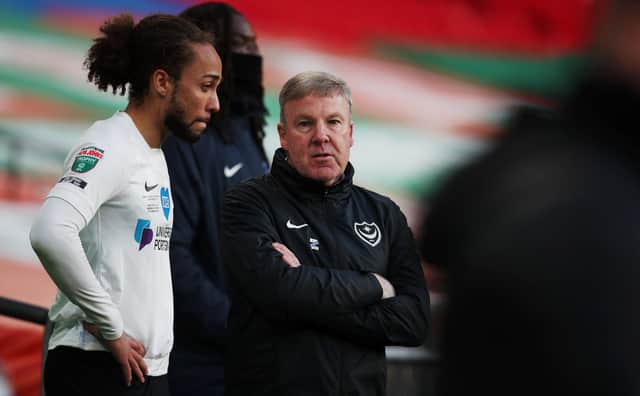 Kenny Jackett tries to offer words of encouragement to a dejected Marcus Harness after Pompey's Papa John's Trophy final defeat to Salford. Picture: Joe Pepler
Yet he rued the Blues' inability to capitalise on their purple patches as they slumped to a Papa John's Trophy final defeat to the League Two outfit.
Pompey this afternoon lost 4-2 on a penalty shoot-out after Ronan Curtis and Ryan Williams missed the opening two spot kicks.
Earlier they were indebted to Craig MacGillivray's stunning performance, in particular the first half.
The half-time introduction of Lee Brown and then Ben Close helped to improve an awful opening 45 minutes for the Blues.
Yet with the fixture goalless after extra-time, it headed into penalties – and it was Salford who were victorious.
Jackett said: 'Salford had the first half and then I felt, from half-time and extra-time, we showed a lot more intent and created some chances and generally were on top in the game.
'Unfortunately, during that period when we were on top, we couldn't finish our chances or find that yard, or get on the end of that cross that would have made the difference.
This content is provided in association with the University of Portsmouth.
'Then going into the penalty shoot-out, missing the first two has made it a mountain to climb after that.
'Craig kept us in it in the first half, they were on top, we didn't show enough intensity or intent, it was a frustrating afternoon.
'The only thing we can take out of the first half was it was still 0-0, that's where we were at half-time and needed to improve. I'm pleased to say we did improve.
'I thought from half-time on we performed pretty well, but I do think in the first half they were on top and we didn't start the game well.
'From the second half we showed more intent, we were on top, but also, during those periods you do need to score.'