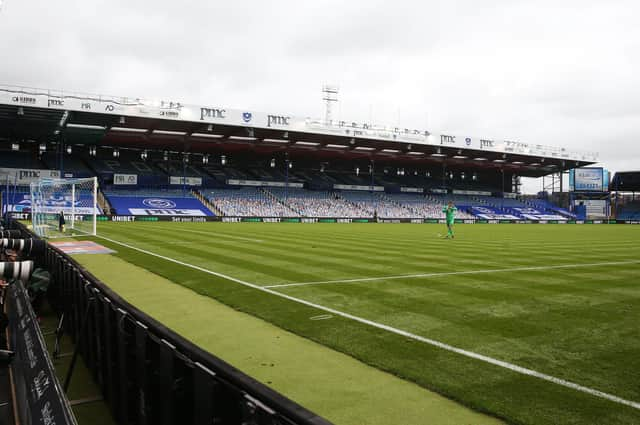 All Pompey games will be played behind closed doors until further notice.
The EFL has confirmed that the first group games of the forthcoming campaign's EFL Trophy will be held the week commencing September 7.
That's sandwiched between the Blues' opening game of the new season – a Carabao Cup tie (Saturday, September 5) – and their first match in the league (Saturday, September 12).
As yet, no opposition for all three dates has been confirmed.
However, fans will soon find out, with the EFL also confirming when fixtures and cup draw details will be announced.
Next Tuesday (August 18) will see the draws for both the Carabao Cup and the EFL Trophy take place.
The League Cup draw will be hosted live on Sky Sports, with a time yet to be decided.
Meanwhile, the draw for the EFL Trophy, formerly known as the Leasing.com Trophy, will take place on talkSPORT 2 at 1.30pm.
League One fixtures will then be viewed for the first time at 9am on Friday, August 21.
The format of this term's EFL Trophy remains unchanged, with north and south group games kicking off the competition.
The final will be held on Sunday, March 14 – although no date has been confirmed when the Blues will take on Salford for the right to be crowned 2019 Leasing.com champions.
Following the first round of matches, further EFL Trophy games will be played on October 6/7, November 10/11, December 8/9 (round of 32), January 12/13 (round of 16), February 2/3 (quarter-finals), February 16/17 (semi-finals).
If Pompey progress past the first round of the Carabao Cup, then they'll be back in action the week commencing September 15/16.
Rounds three and four will then be held over the weeks commencing September 22/23 and 29/30.
This year's semi-finals will be single-tie encounters.
As stated before, Pompey will take part in 11 League One midweek games.
Meanwhile, the play-off finals will take place at Wembley between May 29-31.
At present, all Pompey games will be played behind closed doors until further notice.