'Outrage' among Lincoln and other salary cap backers as Football League face fresh backlash over proposal Portsmouth are fighting
The Football League's salary cap proposals face fresh criticism – by those clubs previously in favour.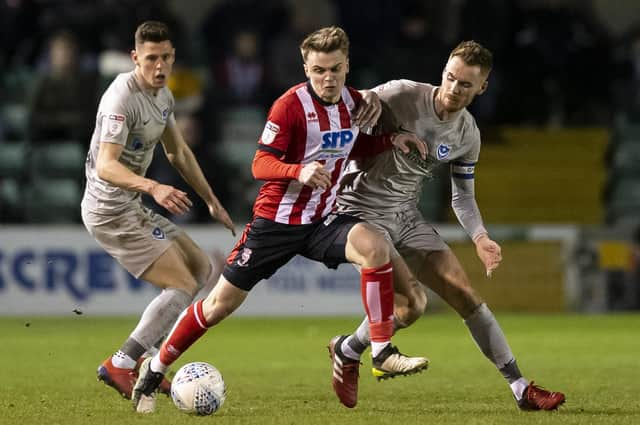 Lincoln's Jake Hesketh battles with Tom Naylor - now both clubs are critical of the Football League's salary cap proposals. Picture: Daniel Chesterton/phcimages.com
According to Lincoln chairman Clive Nates, there is now 'outrage' following an amendment to the cut-off point.
League chiefs are driving on with implementing the wage ceiling for the 2020-21 season, which has been announced is to begin on September 12.
The vote on whether to approve its introduction to League One and League Two has now been delayed until August 6.
Crucially, however, the cut-off point for contracted players has now also been put back to August 6.
The initial proposal stated this was backdated to June 30, meaning players signed after that date would fall under wage cap restrictions.
Now that has been altered, allowing clubs to currently recruit unimpeded by wage restrictions – whereas some had already been abiding by planned changes.
That has drawn criticism from Pompey's fellow League One side Lincoln, who remain in favour of the cap.
While League Two Bradford, who are strongly opposed to the concept, have also hit out at changes to the cut-off date.
Now others are also voicing their disapproval.
In a Tweet, Lincoln chairman Nates wrote: 'We were in favour of the salary cap concept but absolutely share the outrage in the way the EFL is handling the process allowing the chancers to benefit.
'A 30 June cut off date set out in the original documentation was emphatically reaffirmed at the 10 July meeting of L1 clubs.'
He told the Bradford Telegraph & Argus: 'It appears the EFL are making up the process as they go along and that's forcing clubs to react to an ever-changing picture. But this may well have come as a result of the pressure we and others have added.
'We've spoken to other clubs in League Two at length and there is outrage at this late change to the proposal, which compromises planning.
'There are clubs that have already begun recruiting in this division that weren't aware this was going to happen, ourselves included.
'Likewise, there are financially-struggling clubs who have been unable to start recruiting, given the uncertainty.
'Those clubs will have taken some solace from believing players signed after June 30 - by their rivals - would count fully against the proposed salary cap, meaning they would be competing on a relatively level-playing field.
'If you play your cards right, though, the salary cap would not affect you for several years if you signed long-term contracts on certain players.
'My view would be to park it, review the idea and probably look at it towards the start of next year before bringing it in for next season.
'Clubs have got enough to concern themselves with right now with the virus and the state of affairs in the country, let alone just football.'
A message from the Editor, Mark Waldron
Thank you for reading this story. The dramatic events of 2020 are having a major impact on our advertisers and thus our revenues.
Every subscription helps us continue providing trusted, local journalism and campaign on your behalf for our city.