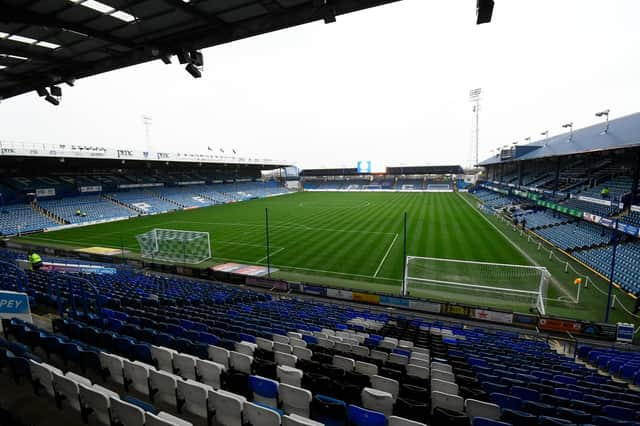 Danny Cowley has praised the impact of Roberto Gagliardi as Pompey seek a sporting director. Picture: Graham Hunt/ProSportsImages/PinP
That is the verdict of Danny Cowley who has been impressed with the Italian's push to become Pompey's sporting director.
Pompey are striving to identify a sporting director – with the former Leyton Orient man bidding to demonstrate his talents in the meantime.
And Cowley, who has worked with Gagliardi since the head coach arrived at Fratton Park last month, has sung his praises.
Pompey's boss said: 'The club are constantly asking for my opinions, I am trying to manage it like I am going to be here for the next 10 years – I want to be here for the next 10 years.
'We are involved, operationally and strategically.
'Roberto is working on the football operations and strategy of the football department of the club – and he's doing a really good job.
'He's been great, we've enjoyed loads of conversations. He picks the phone up to me at 12.30 at night, which I always like because I'm always struggling to find people who want to talk football at that time in the evening!
'Roberto has a real passion, energy and enthusiasm and some really good contacts. He has been an excellent recruiter for a number of years now and is looking to make the next step in his career.
'That in itself can be really exciting when somebody is looking to make that step, they put natural enthusiasm and energy into the role.
'We are really enjoying working with Roberto, enjoying aligning our thoughts, talking about the operations of the club on a day-to-day basis, talking about how we can move the club forward strategically.
'We are trying to get stepping stones in place to get towards our vision – and that's what we have been discussing.'
Cowley has been heavily involved in all aspects of Pompey, despite initially recruited until the end of the season.
Cowley added: 'It has always been an ambition of mine to speak Italian.
'My dad would always speak some words in Italian to us at home. It's just a nice language, isn't it.
'And, let's be honest, they know a bit about football. There have been some good Italian players and good Italian coaches over the years.'
A message from the Editor, Mark Waldron
The News has launched a subscription offer which gives you unlimited access to all of our Pompey coverage, starting at less than 14p a day.