Portsmouth boss' forthright response to fatigue hurting season after Crewe frustration
Danny Cowley dismissed talk of fatigue impacting Pompey's promotion bid.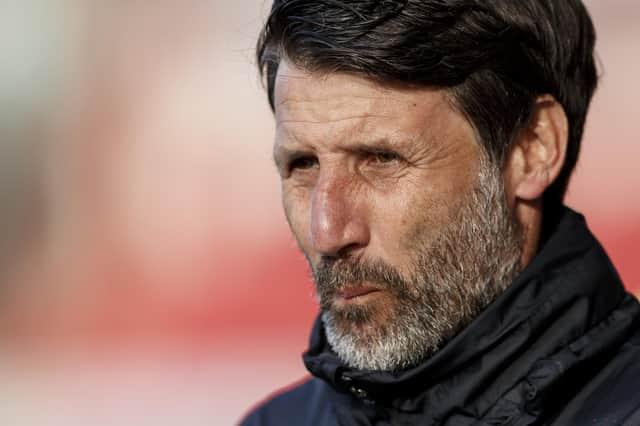 Danny Cowley at Crewe tonight (Photo by Daniel Chesterton/phcimages.com)
And the Blues boss vowed he will not accept that as a valid reason for performances dropping through a run-in carried out with a lack of attacking resources.
Pompey produced an often disjointed performance going forward which resulted in a disappointing 0-0 draw with Crewe.
Ultimately, it was John Marquis' missed penalty which was decisive, following on moments after missing a gilt-edged chance at Gresty Road.
Pompey couldn't find the right moments on the front foot, though, and with attacking injury issues had little to call on from the bench in attacking areas.
Cowley is adamant that is something his players have to embrace over the final six games of the regular season, however.
He said: 'We have to enjoy this.
'They'd be moaning if I was dragging them off after 60 of 70 minutes.
'I could rest one for 20 minutes every four games, otherwise they've got to play.
'You can't moan about coming off and then moan about not coming off. Then that just makes you a moaner.
'It's only something if you talk about it. We are absolutely privileged to do a job we love.
'There are thousands of supporters who'd give their right arm to do what we do.
'All of those guys would have worked 40, 50, 60 or 70-hour weeks.
'They don't want to hear me talking about us being tired, because we're in an unbelievably privileged position.
'So, no, we're going to enjoy it.
'We're professional sportsmen who are trained to work with the workload in front of us. We're going to enjoy the physical and mental challenge, we're going to find a way and overcome it.
'You'll hear a lot of weak people talk about tiredness.
'For us, we love what we do and we're absolutely privileged.
'Our fans work hard day after day after day, so they won't hear their football manager talking about players being tired.'
Cowley admitted he was frustrated with the outcome of the game as Pompey were forced to settle for a draw, after a maiden loss in their tenure against Burton Albion on Saturday.
He added: 'We could and should've won and the overriding emotion we leave here with is frustration.
'We did quite a lot right up until the final third and certainly had enough chances to win the game.'Obviously when you miss a penalty to win a game you are always disappointed.'