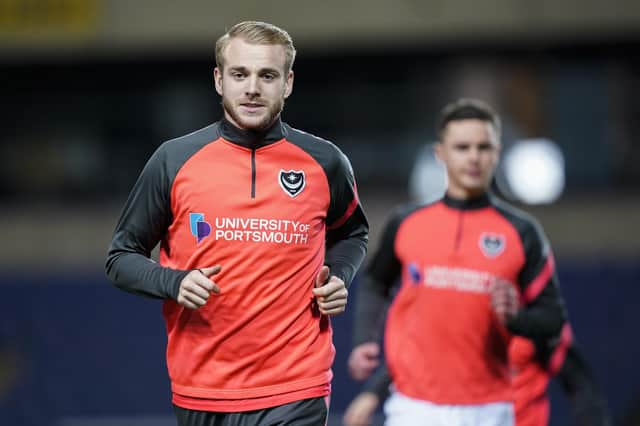 Jack Whatmough
Whatmough told of the serious concern he had for the health of his pregnant fiancee, Demi, and infant daughter, Esme-Rose, as he battled the disease.
The 24-year-old was laid low ahead of the 2-0 win at the KCOM Stadium and later returned a positive test, with an outbreak hitting the squad through the Christmas period.
Whatmough's concern was for those closest to him, however, and the impact it could have on their health.
He said: 'Testing positive and everything that happened was scary.
'I felt a bit warm ahead of the Hull game, but wasn't feeling any major symptoms.
'I went down at lunch and the gaffer asked if I felt I could give 100 per cent, and I felt I couldn't.
'You know within your body what is right, so we made the decision there.
'My mum came and got me and that's when I gave it to her. I felt awful about that.
'I stayed on the bottom floor of my house that night and the physio came around the net day and gave me a rapid test, which came back positive.
'So I stayed where I was and didn't come into any contact with my missus or the baby, who were my big worry.
'They say you can show symptoms up to a week after catching it, so the missus got her test done at the drive-through place, my mum tested positive but my dad and brother were fine in the same house. That's a weird one.
'Christmas morning we had two rapid tests in the house and they came back negative.
'So we had an average Christmas and were able to have some food in the kitchen. It was all more of a panic.
'I just stayed away really. The missus was asking if we should go sit in the garden,
'We did it a couple of times stood a long way away, but I didn't really want to risk it.
'It's a scary thing to have.'
Whatmough's illness saw him laid low for a few days before he returned to the Pompey fray.
While some report long-term effects of the disease, the Gosport lad feels he is now fully recovered.
Whatmough added: 'I had three days where I was coughing, headache and high temperature.
'I'd go to bed at 10pm or 11pm, sleep through until 11am and then go to sleep again after another couple of hours. I was like that for three days.
'I got a stiff back and had that for a bit, but I'm fine now and feel 100 per cent.
'I think it took a training day to recover properly really, but I'm all good now.'
A message from the editor
On Saturday, March 13 Pompey will finally get their day at Wembley.
To celebrate the Blues' place in the rearranged 2020 EFL Trophy Final, The News has launched an offer that gets you 25% off all our Sports subscriptions.