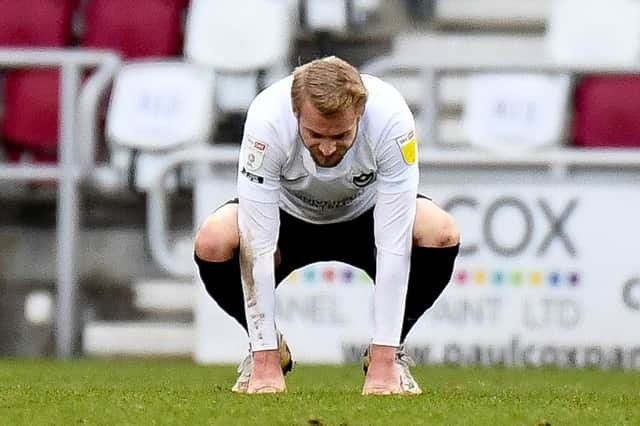 Portsmouth FC defender Jack Whatmough (6) looks dejectedduring the EFL Sky Bet League 1 match between Northampton Town and Portsmouth at the PTS Academy Stadium, Northampton, England on 6 March 2021. Pixture: Dennis Goodwin
The Blues have dropped to sixth in the table after suffering a dreadful 4-1 loss at lowly Northampton on Saturday.
Kenny Jackett's side found themselves four goals behind at half-time in what will go down as one of the worst first-period performances in modern Pompey history.
Having been top over the festive period, the Blues are now teetering on the edge of the play-offs with Ipswich and Accrington two points behind with a game in hand respectively.
Now with high-flying Sunderland and Peterborough coming up in the next two league games, Whittingham has concerns the Blues could drop out of the promotion places.
'Being a professional footballer, you have to go out and win. You have to be a competitor in that world.
'That was motivation for me whatever the manager said. Yes, they can say things but it's up to you to get motivated on the pitch.
'Don't be saying it's up to the manager which it is and that's part of it.
'But in the current state, are Portsmouth going to be in the play-offs in 2-3 weeks' time? That is the worrying thing. The form is that bad that it has to change around really quickly.
'It's interesting for the owners what they think is best to do. Sunderland and Peterborough are coming up, if you lose those than the spirit is going to be worse than it is now.
'Where is the motivation coming from to get themselves going again and will they be able to get themselves going again to get in the play-offs?'
Pompey conceded two of their goals at Northampton from corners – something which was very uncharacteristic of Jackett's team.
Whittingham added: 'The two corners were free headers. Anyone that plays football at any level, they were cheap goals to give away.
'Over the years, you couldn't really say Portsmouth haven't been strong from corners - that's been one of the stronger areas.
'You can moan about the way Jackett wants to play the game but set-plays for and against have been pretty good.
'Saturday was an abomination, a lack of concentration or win to win. Ultimately, he is the manager and has to take the responsibility for the motivation of the team although the players also need to be self-motivated.'