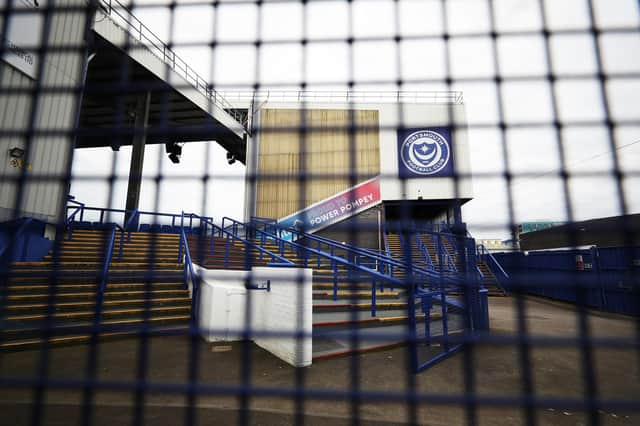 Pompey fans continue to be locked out of Fratton Park. Picture: Naomi Baker/Getty Images
That's according to the club's chief commercial officer Anna Mitchell, who said the Blues could potentially welcome up to 4,000 fans back into the stands for any League One play-off semi-final.
Fans returning to grounds has been at the forefront of clubs' minds amid falling coronavirus rates and a successful vaccination programme.
This week it was announced that both Tottenham and Manchester City will have 2,000 spectators at Wembley for the Carabao Cup final on April 25 as part of a test event.
But supporters under 18 cannot attend, and people who are clinically extremely vulnerable or pregnant have also been told not to apply for tickets.
Further guidelines are also attached, including fans having to take a lateral flow coronavirus test at a designated site - not at home - in the 24 hours before the game.
They must bring proof of a negative result, either a text or an email.
There's the potential Pompey could welcome back fans for the play-offs – if they claim a top-six finish. Blues supporters could also attend any subsequent final at Wembley.
And when asked at the latest Tony Goodall Fans' Conference if the Blues would adopt a similar approach to that rolled out for the Carabao Cup final, Mitchell stated: 'As a club, we don't have any plans to exclude anyone'.
No follow-up question was put forward regarding lateral flow tests prior to entry.
Mitchell added that numbers in attendance for any forthcoming Fratton Park semi-final would depend on government guidance.
Only those fans who signed up for a flexi-season ticket would be eligible, with a ballot system used rather than groups being allocated the fixture.
Meanwhile, no away fans would be allowed in, ensuring only Pompey supporters would be watching the action live and in person.
'We're looking at around 2,000-4,000 capacity depending on the government guidelines at the time,' Mitchell added.
'When we used flexi-season ticket groups, we saw only around 65-per-cent take-up from each allocated group.
'That led to a fastest-finger first situation when the leftover tickets went on sale.
'We're looking at potentially using a ballot system, open only to flexi-season ticket holders, which could be more fair.'
The subject of season tickets for next season was also raised at the conference, which was also attended by Danny Cowley, Nicky Cowley, Eric Eisner, Mark Catlin and Tony Brown.
It was confirmed that flexi-season tickets would likely be introduced again, with uncertainty remaining over fan numbers moving forward.
Meanwhile, talks were continuing over the extension of the use of the iFollow service for 3pm games on a Saturday while capacities remained reduced.
Mitchell said: 'We've started discussions on this (season tickets). We're leaning towards flexi-season tickets again.
'Even the European Championships, which are in late July, appear to be looking at 50-per-cent capacity.
'Flexi-season tickets would help us ensure fans not yet comfortable coming back could still retain their season ticket seat for future use as well.'
She added: 'There are discussions about extending the suspension of the Saturday 3pm 'blackout', which would allow us to continue broadcasting every game via iFollow while capacity is reduced.
'We are getting around 4,000 iFollow viewers per match at the moment which is a fantastic number and one of the highest in the league.'
First-leg League One play-off semi-finals will be held on May 18-19, with second-leg games taking place on May 21-22.
The final will be played at Wembley on Sunday, May 30,