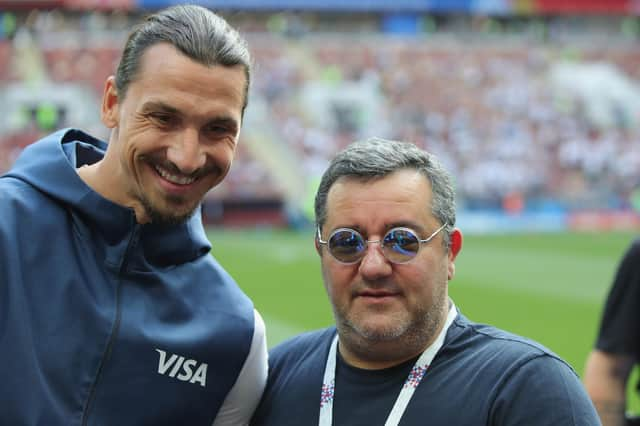 Mino Raiola with client Zlatan Ibrahimovic at the 2018 World Cup. Picture: Alexander Hassenstein/Getty Images
Clubs in the third tier were forced to work under a salary cap of £2.5m, while it was set at £1.5m for League Two outfits.
However, the Professional Footballers' Association (PFA) immediately challenged the caps, saying they were 'unlawful and unenforceable'.
Raiola, who represents some of the biggest stars in the game including Paul Pogba, Zlatan Ibrahimovic and Erling Haaland, praised the wage ceiling being axed.
He pinpointed how it wasn't fair that footballers were being limited to what they could earn.
Speaking to BBC Sport, Raiola said: 'In all fairness, there are no salary caps in any industry.
'There are no salary caps for CEOs that run big or small companies, there are no salary caps for actors, there's no salary cap for (the artist) Banksy!
'There are no salary caps in any part of our open, liberal society.
'So why should there be a cap on the talent of football players?;
However, Raiola has controversially suggested that divisions across Europe should scrap relegation for three years amid the financial impact of the coronavirus pandemic.
He added: 'I would like to give clubs the possibility (over) the next three years, because of Covid, to maybe find a system where in some countries (they) say, "Listen, you know what, let's not relegate any more" to have a more stable environment to build your reserves.
'In France, Spain, and Italy, it is a real financial disaster if you go down. And that puts clubs in a stressed position, where maybe they cannot make a decision for the future, but based only on the short term.
'The total system has to be looked at. In the Football Forum, we are not there to kill clubs. We should try to be more modern and to sit down with all involved parties and to see where is it that we can help each other.'