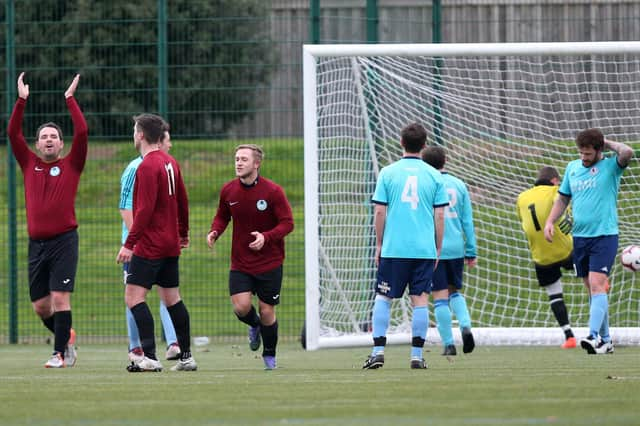 Harvey Herringshaw, third left, celebrates a goal for Burrfields (maroon) against Portchester Rovers last December. Pic: Chris Moorhouse
Unable to use their usual Warblington School venue for their first two home matches after the easing of lockdown restrictions, the club have aimed high.
As a result, boss Brian Kirby has paid £250 to hire Hawks' Westleigh Park stadium for Division 1 games against Mob Albion (this Saturday) and Stubbington (April 10).
With their usual training facility at the Mountbatten Centre also currently out of bounds, Burrfields have also paid to train for two evenings on the 3G surface at Westleigh.
Rob Love on the ball for Burrfields (maroon) against Portchester Rovers in the Mid-Solent League last December. Picture: Chris Moorhouse
'We have a good relationship with Warblington School and the 3G facility there is fantastic,' said Kirby.
'But they are not taking external bookings until after April 19, so as the home team it was our responsibility to find a venue.
'I know Havant's season has been declared null and void so I thought this would be a great opportunity for our players to play at the stadium.
'It's a bit more than we would normally pay, but we felt it was an opportunity we couldn't pass up.
Burrfields (blue) in Mid-Solent League action for Burrfields at Horndean United in 2019/20. Picture: Duncan Shepherd
'I asked Stubbington if they could kick off at 4pm, because there's a prior booking, and they almost snapped my hand off!
'We can't train at Mountbatten as they aren't accepting external bookings until after April 12, so we've booked Westleigh Park again. It was expensive to do that, but I felt it was important to get some football into my players' legs.
'In addition to the pitch fees, we've also got to pay £25 towards the ref's fee and the only contribution we get is £40 from the away team.
'But I would much prefer to splash the cash to give my team the chance to play on a decent pitch.
Burrfields (blue) in Mid-Solent League action at Horndean in 2019/20. Picture: Duncan Shepherd
'We're very well run financially and we can afford to spend those sort of outlays.'
All of the Burrfields squad - numbering over 30 - pay £30 to sign on for a season.
They also pay £3 to train each week and £5 to play on matchdays (£3 if named as a substitute).
'The lads are very good at honouring their subs,' said Kirby. 'There's not too many that let me down.
'We're a progressive club and we want to play football the right way and do things properly.
'The players are all given a tracksuit top when they sign on, that's probably worth more than £30 in itself, and we also have training tops and polo shirts with the club's emblem.
'The profile (of the club) is important to us.'
Burrfields are keen to launch a reserve side for the 2021/22 season. Ideally, they would enter it in the second tier of the Mid-Solent - the league will almost certainly be split into two divisions next season due to new clubs entering.
If that is not possible, they will look to enter the team in the City of Portsmouth Sunday League.
'The Mid-Solent is a progressive league,' said Kirby. 'Rob England has done a fantastic job of running it.
'We had a Zoom meeting a while ago and all the managers were given an opportunity to have our say. Nobody wanted null and void, we all wanted to try and complete the season.
'Splitting the league was a good idea, as it means you'll get meaningful games which will allow the league to have champions in two divisions.'
Kirby added: 'Our long-term ambition is to cement ourselves in the higher echelons of the Mid-Solent.
'This season, with Covid, there was always a fear the league could be split into two divisions and the aim was to be placed in the higher division.
Burrfields had won four, drawn three and lost two of their nine games when the MSL went into lockdown shortly before Christmas.
Kirby's side were on a seven-game unbeaten run after losing their opening two matches to Horndean United and table-topping Meon Milton.
Again Horndean they took the lead but were then rocked by injuries which resulted in two players having to go to QA Hospital for treatment, and they lost 3-1.
They then went down 3-2 to Meon.
Burrfields return to action, though, 12 points worse off than when they entered lockdown.
Due to the splitting of the division, only results against teams in their newly-arranged sections count moving forwards.
Burrfields have kept points from draws with Strawberry, Portchester Rovers and Stubbington, but have lost the four wins they collected against teams who will restart this weekend in Division 2.
'We're a young-ish team who like to play the right way, that's why we're happy to spend money on proper pitches,' said Kirby.
'I would have preferred to get some more time in the players' legs before we started playing, but everyone's in the same situation. It's making the best of what you've got.
'We're always looking to sign good players, but people contact us - it's not that we outwardly go looking for them.
'We always want to make sure that players are the right kind of person. We're not a team of prima donnas, we're a team of grafters who try to play the right way.
'All new players have got to be the right fit for the squad - we won't tolerate any divisions.'
Kirby will be without first choice centre half Charles Flatman against Mob, while leading scorer Jack Palmer might have to work.
Burrfields could therefore hand a debut to new striker Jesse Parkis, who recently put a message in a MSL group chat saying he was looking to sign for a club.
The Burrfields v Mob game will be the first adult match at Westleigh Park since Hawks took on Ebbsfleet United in a National League South game on February 13.
Under Covid guidance, the dressing rooms will be out of bounds.
Burrfields' match is not the first one at the stadium after lockdown, though; that honour goes to Berewood Panthers and Stubbington Hawks who meet in a Mid-Solent League U14 game on Saturday morning.
That fixture is followed by Berewood Panthers' U15s taking on the Soccer Scholar Academy.
Burrfields v Mob is followed by a fourth game of the day at 6pm, another Mid-Solent League encounter between Horndean United and Rowner Rovers.
There are also three games at Westleigh Park on Sunday - a Jubilee v Padnell Rovers double header in the City of Portsmouth League followed by Pompey hosting Cheltenham in the Women's FA Cup at 2pm.