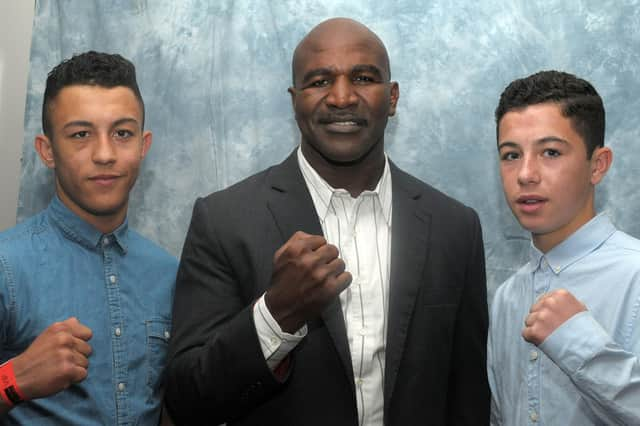 Boxing brothers Mikey McKinson, left, and Lucas Ballingall, right, with former undisputed cruiserweight champion Evander Holyfield. Picture: Mick Young
McKinson already has four belts in his possession since turning professional seven years ago.
The slippery southpaw, 26, added the WBO Global welterweight title to his WBC world youth, WBC silver international and WBO European belts by beating Chris Kongo in front of the Sky Sports Box Office cameras on Saturday.
Meanwhile, brother Lucas Ballingall gets a shot to land the first strap of his pro career in May.
Lucas Ballingall. Picture: Leigh Dawney/Getty Images
Boasting a 13-1 record, he will finally get his chance to claim the English lightweight title he has long been the mandatory challenger for when he faces holder Myron Mills.
Michael Ballingall, who trains both fighters - while also managing Lucas - hopes his younger son can gain his first belt to set him on his way to future glory.
But the experienced trainer says should the 24-year-old claim his maiden title, it will only make both Mikey and Lucas hungry for more of the same.
'Hopefully it all goes well and Lucas will have a belt on him by the summer time, his first one,' said Ballingall snr
Mikey McKinson with his WBO Global welterweight title. Picture: Mark Robinson Matchroom Boxing
'If you look at it and think, 'well hang on a minute, look at the Smith brothers (Callum, Paul, Liam and Stephen), there's four brothers and every single one of them has won major titles or boxed for major titles in their lives.'
'How can you get that? Well, my answer to that is family competitiveness.
'When you have a fight and you lose the fight and your brother says, 'you got beat by whoever, I'm going to win this belt'.
'It's not just happening in the gym when you're there for two hours, it's happening all the time because you're living with each other.
'There's always that competitive streak with each other, it's that sibling rivalry that helps push them forward. But so far Mikey is winning it.'
McKinson's father and trainer was never in doubt the Pompey Problem would be able to handle the biggest occasion of his career to take Kongo's WBO Global title on the Dillian Whyte v Alexander Povetkin II undercard in Gibraltar.
Michael Ballingall told of how both sons attended some top shows through his work as a trainer and part of teams for top fighters down the years.
And he believes Lucas, who is starting to push on with his English lightweight title fight preparations, could be better off moving forward having suffered a first pro defeat of his career against Russian Arslan Magomedov in Belarus last August.
Ballingall snr recalled: 'Mikey and his brother have been to some of the biggest shows that we've had in England, they've sat ringside and they've been in the changing rooms when I was working on shows.
'I've bred them to never be in awe of someone; be in respect of them for their achievements, but never be in awe.'
Commenting on Lucas' sole pro defeat, Ballingall added: 'I can't go against what I already say that if you're fighting away from home you can't just nick it, you've got to push harder.
'A lot of people had Lucas winning the fight but I'm the biggest critic and you've got to push to the highest level.
'Regardless of everything else I think about that fight, Lucas has got a loss on his record.
'He's got the loss, hopefully he's learnt from that loss, and hopefully it'll make other fighters want to fight him. In a way it could be a blessing in disguise.'