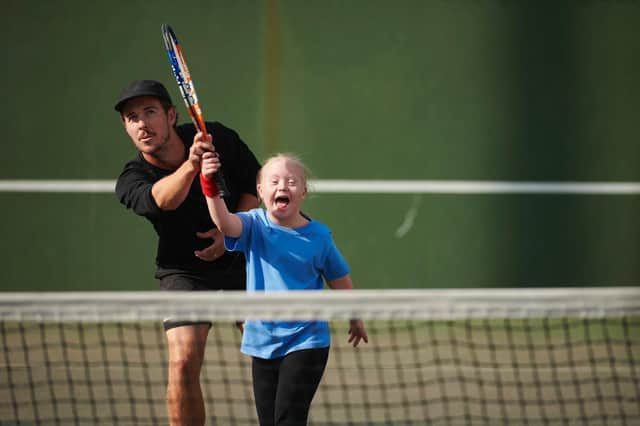 Tennis coach Ashley Neaves doing what he hasn't done much of recently - coaching on court.
In fact, The Avenue Lawn Tennis Club head coach has managed to reach a far wider audience than he would usually attract on court.
When the UK was originally placed under lockdown restrictions almost 12 months ago, Neaves knew he had to do something - as much for his own mental and physical well-being as well as the 350 adult and junior players he oversees on the club programme.
Interest in his virtual offerings would quickly grow with adults and children alike able to at least do some sort of physical activity - even from the comfort of their living rooms.
Neaves adapted lessons and challenges so viewers could follow from home using indoor equipment if they did not have tennis racquets or balls.
Such has been the success of the platform, the 2017 British Tennis Coach of the Year has been recognised for his efforts by winning the Hampshire & IOW Peter Grinyer Innovation award.
The Tennis Mentor channel has grown dramatically since launching in April with more than 2,500 subscribers, but Neaves is just pleased his short videos have received a far-reaching audience.
'We wanted to keep tennis in the forefront of their minds (club members and players),' he remarked.
'We were lucky that tennis was one of the first things to come back after lockdown and one of the last things to be removed as a restriction.
'We were lucky in that respect but, at the same time, during those periods where we couldn't play, I wanted to keep tennis at the forefront of peoples' lives.
'The Hampshire committee have put together this award to recognise people that have been innovative, so this year rather than giving out a coach of the year award - because it's been quite difficult with coaching - they decided to put the innovation award in its place.
'It's to see who's been innovative during lockdown and helping people to stay active during lockdown.'
Neaves, 31, had originally targeted his online sessions at players and coaches already involved in the sport.
But in a bid to help parents keep their kids active when home schooling, he has now launched some longer videos which have been sent to PE heads at some 52 primary schools in the Havant and Waterlooville region.
The Old Portsmouth resident believes those are important to ensure children are provided an alternative exercise option, as well as hopefully increasing interest in a sport those aged between 4-11 might not have had access to or known a great deal about.
Neaves said: 'I have been doing these challenges and one-minute lessons but they're kind of based for players or coaches who are already involved in tennis.
'I thought because of the success of those I wanted to reach more people that don't play tennis.
'I created a series of virtual lessons, almost like Joe Wicks-style, where people can follow along from home.
'What I've done is send it out to all the local primary schools so 52 head PE teachers of all of the primary schools have received these videos to dish out to parents that are home schooling.
'That's something more recent that's been aimed at 4-11 years olds, beginners, to try to get them to play tennis when we return.'
Despite the success and reach of his The Tennis Mentor channel and page, Neaves admitted it's still been a difficult time.
The Avenue Lawn Tennis Club, in Southleigh Road in Havant, is currently closed for the third time because of the pandemic.
That means Neaves and around six or seven other coaches at the club who roll out the programmes have had their hours completely cut for long periods of the past 12 months.
But with The Avenue working to the March 29 tennis reopening date after last week's lockdown restriction easing roadmap announcement, the hope is increased numbers could take up the sport.
And although it's been a strange and tough time, Neaves says lockdown life has provided him with a learning experience he might never have had under normal circumstances.
'I've learnt a lot that I don't think I would ever have learnt if lockdown wasn't here,' he remarked.
'I wouldn't have this much time off court to learn about video editing and filming yourself, that sort of thing.
'It's been a big learning curve for me but something I've enjoyed and will be keeping up.
'I'm going to try to keep the YouTube channel going because it's been really nice to connect with people all over the world.
'I've met loads of different people, I've done podcasts and American tennis conventions and things like that.
I'm going to try to keep it up but it won't be as full on as it was before because I'll be on court for quite a lot of my weekly hours, but I'll continue it for sure.'