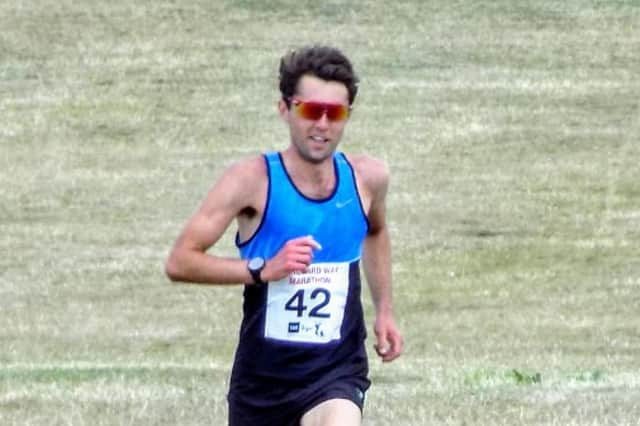 Jack Oates won the Vanguard Way Trail marathon - despite getting lost in the first half of the course
The Fareham athlete had the route programmed into his watch, but still managed to take a wrong turning after breaking away from his nearest rivals around the seven-mile mark.
Oates, 24, ended up running half a mile more than he needed to, and once back on the course didn't catch up with the leading pack until the 10-mile mark.
'I stuck with the leader until the halfway turnaround point,' said Oates. 'Then I decided to make my move and never looked back.
'I realised I had taken a wrong route when I ran down a hill and my watch told me to go left, but there was nowhere to go. When I was running back up I noticed an arrow lying on the floor that I hadn't seen!'
Oates won in 3:07:57 - around eight minutes ahead of the runner-up - but said: 'There was definitely more time in the bank without the mishaps and the really hot weather.'
The Vanguard Way marathon is an out and back course, starting in Croydon and heading over the M25 and back.
The Vanguard Way is a long distance walk of around 66 miles from East Croydon in outer London to Newhaven on the south coast.
There is some stunning scenery with views across the North Downs Way.
The highest climb on the North Downs reached 853ft above sea level and, in all, the course has approximately 3000ft of elevation.
The race - one of only a few marathons to have taken place since the pandemic started - began with waves of 10 runners starting every minute, with the faster runners in the first waves.
'It did feel a bit strange in some aspects,' said Oates. 'There was no mass start and nobody handing out drinks in a cup around the route.
'Instead, we had to pick up a bottle of water, a Mars Bar that was already wrapped up, or a banana that hadn't been peeled.'