Portsmouth maintain 100 per cent start to new Hampshire Women's Premier Division hockey season
Portsmouth twice came from behind to continue their 100 per cent start to the new Hampshire Women's Premier Division season.
Tuesday, 6th October 2020, 11:59 am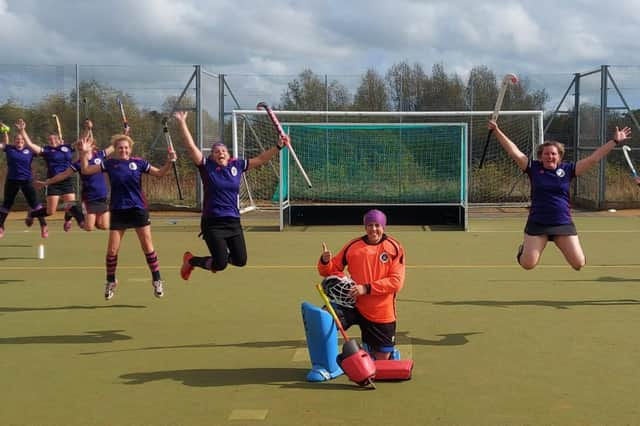 Portsmouth's 4ths celebrate their first Hampshire League win of 2020/21.
They are one of four clubs to have won their opening two games following a 3-2 victory over Havant 2nds.
Despite starting the stronger, Portsmouth squandered early chances and fell behind.
They levelled from a sweet short corner routine deflected into the roof of the net by Lauren Stewart.
Play became ragged for a period with Havant relying on a long ball game and Portsmouth's close passing possession hockey floundering against a solid defence.
They paid the price for some sloppy play by conceding a late penalty corner just before the interval.
Portsmouth improved in the second half an the inevitable equaliser came from a quick break down the left and Emily Dunkerson's cross was converted by Jenny Turvey-Warnes.
With Zoe Wimshurst and Jen Smith controlling the midfield, Portsmouth took the lead through Katie Spooner.
Next up for Portsmouth is a trip to table-toppers Basingstoke 2nds - who have won their first two games 6-0 and 2-0 - this Saturday
Kezia Winter replied as Portsmouth 2nds were beaten for the second week running in Division 1, 4-1 at Haslemere 2nds.
Lucy Dunning and Fiona Bingham were awarded the player of the match award jointly for their endless running.
Portsmouth 3rds only had nine players on the pitch when their Division 3 match at Salisbury 3rds got underway.
The remaining players arrived 10 minutes in and Portsmouth took the lead through Nicky Puckett.
Salisbury, though, hit back to win with three second-half strikes.
Portsmouth's player of the match was centre back Leah Riddy.
Michelle Hughes hit a hat-trick as Portsmouth 4ths caned Yateley 4ths 8-2 in their opening Division 6 fixture.
Five of their goals came in a one-sided second half after Portsmouth had only led 3-2 at the interval.
Hayley Saunders scored twice with Andrea Barnes, Jemma Gard and Zoe Main also on target.
The player of the match award was shared between Laura Burden-Smith, for great defending and multiple stick saves, and Barnes for superb wing play.
Main and Jane Noble, the latter showing her adaptability by constantly changing position, weren't far behind.
The 'donkey' award went to Emma Japes for an amazing own goal.
Florence Di Marco hit a hat-trick as the newly-formed Portsmouth 6ths hammered their club's 5th team 6-0 in their opening Division 7 fixture.
It was 3-0 at the interval with Amy Rook adding to a Di Marco double.
Freya Mein and Freya Hawkes also netted in the second half.