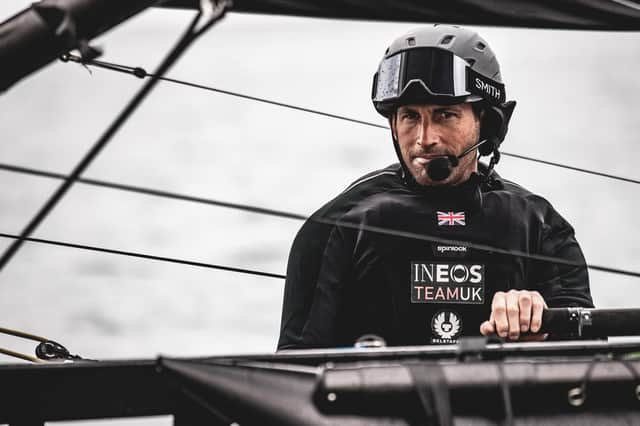 Sir Ben Ainslie
The Portsmouth-based team are due to go head-to-head with Italians Luna Rossa in the final two races of the first round of the Prada Cup series off Auckland.
Ainslie and co are in pole position after winning all four races on the first three days of competition last week.
They twice defeated Luna Rossa and American Magic, who have withdrawn from this weekend's action.
That means two remaining challengers will race once on Saturday and once on Sunday. If Ainslie's team wins at least once, they will progress to the Prada Cup final.
If they lose both, Luna Rossa will progress instead.
If the Italians go through, Ineos Team UK and American Magic will compete in a best-of-seven race series for the right to take on Luna Rossa in a best-of-13 showdown.
The winner of that series will progress to the America's Cup final against holders Team New Zealand, in another best-of-13 series in March.
'We have a big weekend ahead,' declared Ainslie.
'We are looking forward to another couple of days of intense racing.
'Make no mistake, it will be tough. Luna Rossa have been involved in this game for over 20 years, they are an experienced outfit with great designers, great sailors and fantastic backing.
'That said, we will give it our all to beat them and get that route straight through to the final. If we don't have a good race on Saturday, we'll just have to come back stronger on Sunday and go again.'
Ainslie admits booking a direct place in the Prada final 'is important because it gives you more of the one thing you cannot buy in this game - time.
'Time is everything in the America's Cup.
'It gives you time to make the tweaks and developments that you probably won't have the opportunity to do if you are in the Repechage.
'Those couple of weeks' breathing space are crucial.
'With American Magic unfortunately no longer racing in the Round Robins' it has just upped the intensity of our two remaining races with Luna Rossa.
We were happy with how our performance improved last weekend and it was a great start.
'As ever in the America's Cup, however, there is a long way to go and a lot of improvements still to make.
'We have been in Auckland for four months now and we have had our ups and downs but the momentum is building.'
Ainslie is aware that progressing to the final of the Prada Cup would give British sailing fans a lift during the pandemic.
'We realise how tough it currently is for everyone back home. Everyone in the team has families, friends, and loved ones who are suffering at the moment.
'We really hope our improvement in performance has put a bit of a smile on people's faces and hopefully we can keep that going.
'Lots of people around the world are going through some of the toughest times in recent memory and we will do our best to do our bit for them and win some more races.'
Ainslie is preparing to win the silverware for Great Britain for the first time since the tournament was first held 170 years ago.
The America's Cup was first held off the Isle of Wight in 1851. The trophy was put up by the Cowes-based Royal Yacht Squadron and won by an American boat called, appropriately, America.
The New York Yacht Club then successfully defended the trophy 24 times over 132 years before Australia II ended their supremacy in 1983. Since then, the USA have won the cup five times, New Zealand three and Switzerland twice.
The last time a British boat even reached the final was in 1964.