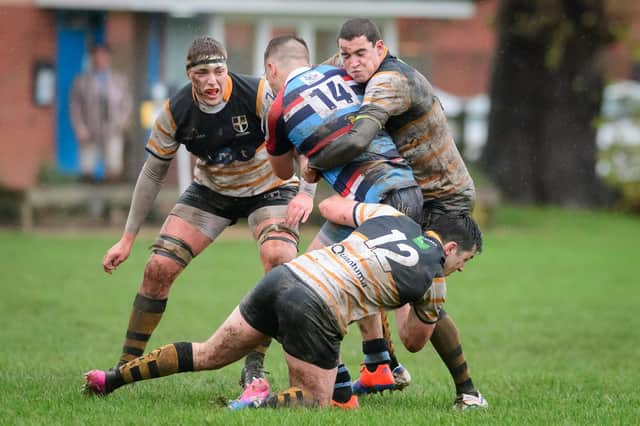 Portsmouth RFC in action in 2019/20 - president Peter Golding is unsure whether the club will benefit from the RFU's £7m handout to community clubs.Picture: Keith Woodland
The governing body have made a £7m package available to community clubs in England who might require additional financial help.
Last week, the RFU made the decision to cancel the season in every division in this country apart from the Premiership.
That step means most clubs could be without revenue for a number of months with the country currently placed on a virtual lockdown.
As things stand, Portsmouth president Golding said they would be sustainable 'with difficulty until the autumn'.
But if they were to require some support from the RFU, he does not know whether they would be able to receive any of the £7m support funding.
'I don't think any of the junior clubs really know the situation,' said Golding.
'It's all very much in the air from the RFU.
'But what club is in trouble, and are they in trouble because of their own mismanagement?
'The big thing is how are they going to decide who they will reward it to?
'As it happens, we should be okay.
'But I think we just don't know.
'We've not had any official communication from Hampshire or the RFU itself.
'We've just had that letter from the chief that is applying to all levels of rugby.
'At the moment, we could survive until the autumn but with difficulty.
'But we've had no communication.'
Given the current unprecedented situation, Golding felt the RFU were left with little choice but to step in.
But he is unsure whether the support package funding will be enough to help clubs.
'They needed to make a statement to say that they as an organisation were looking at ways of supporting clubs,' added Golding.
'That statement is correct, they're looking at ways of supporting clubs, they had to say something.
'When you look at the clubs and the level of expenditure it's going to support, £7m is a drop in the ocean.'