Folk pioneers Steeleye Span link Status Quo, Elvis Costello and a 'lost' song on new album The Green Man Collection as they head to Portsmouth
​Since their beginnings in the late 1960s, Steeleye Span have become folk-rock pioneers, always shifting and evolving across the decades.
Watch more of our videos on Shots! 
and live on Freeview channel 276
Visit Shots! now
​And so it continues with their latest album, The Green Man Collection, which blends old and new.
It brings together tracks from their recent albums with new versions of three Steeleye classics including a reworking of Hard Time, featuring Status Quo's Francis Rossi and a cover of Elvis Costello's Shipbuilding. The title track is a previously "lost" song by Bob Johnson – a key member of the band throughout the '70s. Missing for 40 years, the song addressed the issue of climate change long before it became such a widespread topic.
With Steeleye now led by sole original member Maddie Prior, she describes how The Green Man came home.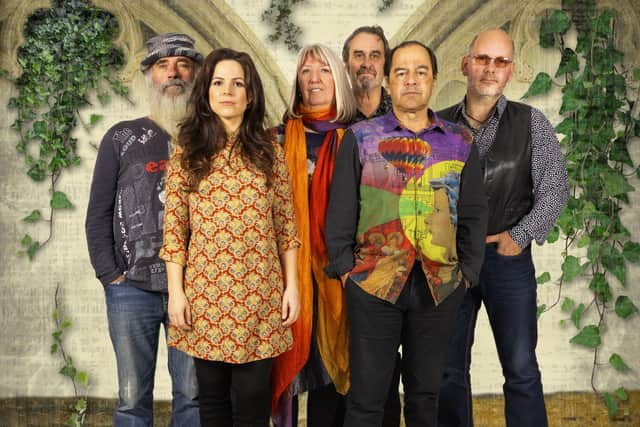 "We found it on a cassette. We were doing an album in the '80s and it didn't go on there for whatever reason, I don't remember why, I can't even tell you which album it was! It could have been anything – we working a lot and rowing a lot – we did come to blows and all that sort of stuff!
"As a way of understanding the world, and particularly the western world it's a very interesting song."
The album features two versions of the track – the original and a version with the current lineup.
"It's rare for us to have an unused song this developed because we'd usually stop a song fairly early on if it's not working out."
The recording emerged from a load of old tapes Maddie gave to band manager and Park Records owner John Dagnell. "I gave them to him and said you look after them!" she laughs.
As to the song's author, although he is no longer in the band, Maddie adds: "Bob touches in every now and again, but it's not his thing any more. He was fantastic at creating a lot of atmosphere and style of the band. And he did all the big ballads, which we still do – they're magnificent to sing and play."
While the band has featured such folk heavy-hitters as Martin Carthy, Peter Knight and John Kirkpatrick among its ranks over the years, Maddie is full of praise for her current bandmates.
"The interesting thing about Steeleye is that it's about the material – that's what it's about. We've kind of developed a world of our own, which is based in folk and traditional music and we've probably done more traditional music than any other band, because it is still a big part of what we do, we always look towards that.
"But we've come at it from a different angle – a sort of rock, prog approach. We've changed a bit over the years, but it's very distinctive and we do our harmonies in a very peculiar way in that everybody fights for their own. Nobody sits down and says: 'This is the way it's going to go'.
"Now there's me and Liam (Genockey on drums), who's been there a very long time. Each lineup kind of makes it their own – people bring in some of their own influences, and sometimes they have to lose some of their influences because it doesn't work in Steeleye. There are ways that it works, and ways that it doesn't, and areas that we haven't gone into. It's kind of unspoken and I couldn't actually describe it technically, but I know when it works.
"It doesn't have to be anything in particular, but it either works or it doesn't, for me!
"I know what works by now, if it goes too far out it goes into other territory. We have a road of ours and we plough our own furrow. You can go a bit out to the side, and we have, but it's not always successful", she laughs. "We did try reggae once, and I thought no, that's not working, and then a band, Edward II, came out and did all traditional material in reggae!
"If you're going to experiment, not all of it is going to work, or isn't going to be palatable to half the band or half of the audience.
"But we never stay still, we never stop doing it. This new compilation has got some interesting things on it – we've done Shipbuilding, for instance. We're going off in a bit of a different direction - the difficulty is in keeping it somewhat contained so that it doesn't go off so crazy that it doesn't make any sense any more."
So does she ever pull rank?
"Only when I need to!" she laughs. "I still think of it as a sort-of democratic band, certainly once we start with the music. The other stuff, is slightly different, but no one's ever been a dictator."
On the face of it, Steeleye and the perennial boogie rockers Status Quo don't have much in common. How did Rossi end up on the new album?
"Back in the early days we went to a festival called Pinkpop (a festival in the Netherlands). We were staying in a hotel and Quo were staying in the same place. We got talking and got on really well as a band. Time went on, we did (folk standard) All Around My Hat, and Rossi sent us a telegram saying: "Well done", and recognising a certain homage to them, as it were! Then they covered it when they did a covers album (1996's Don't Stop), and I went and sang on it and we went and toured with them. It was absolutely brilliant.
"We had this track and we sent it to his management, but they never sent it on to him. Eventually, years later it got to him, and he said: "Ah, brilliant", and sang and played on it.
"There's been a connection over many years. He's very straight – he misses nothing, he's one of those guys, a bit like (Jethro Tull frontman) Ian Anderson who's also on the album playing flute on one of the tracks. He knows what's going on in the room at a gig, and who's working and who isn't."
With the band still going strong after more than 50 years, they now have second and third generation fans coming to their shows.
"The interesting thing with a band like Steeleye is that we have quite a lot of people who come and say things like 'my parents played you in the car', and it makes it a very 'family', very special thing. If you meet someone else who likes Steeleye Span it's like: 'Oh, really!' Whereas if you both like Elton John, it's like, fair enough. It doesn't connect you in the same way."