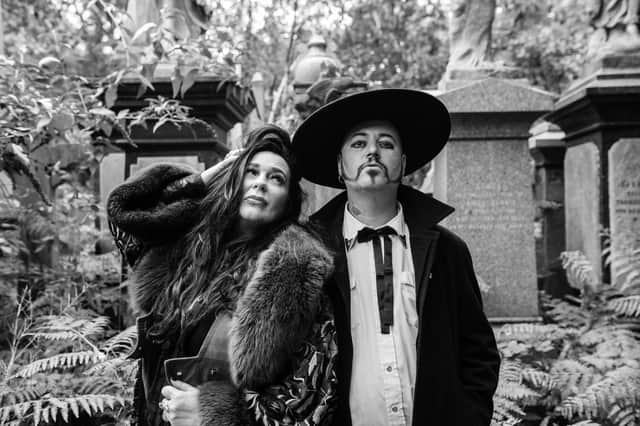 Tomi Rae Brown and Paul-Ronney Angel. Picture by Josie Beth-Davies
She is the widow of The Godfather of Soul, James Brown, and a formidable vocalist in her own right.
Together Paul-Ronney Angel and Tomi Rae Brown cut an intriguing pair – and they have struck up an enduring friendship which has seen them recording together, and in June they will be playing a show in Southsea.
They first met in 2015 after Urban Voodoo Machine played a gig at Bedford Esquires ('of all the glamorous places', quips Paul-Ronney), and Tomi Rae, living nearby had gone along out of curiosity.
She had moved temporarily to Bedford while working on new music at a studio in the town.
'They were playing down the road from my flat,' says Tomi Rae, 'so I went to see them, and I was just blown away – I thought it was amazing, the theatrics and everything. I fell in love with (UVM member) Luci and with Paul-Ronney immediately, and I just really enjoyed the show. I ended up hanging out with them afterwards and having the best time.'
From there the friendship blossomed.
'He invited me to come down to some rehearsals and if I'd do a couple of guest things with (music magazine) Vive Le Rock for their Christmas show, and something we did with Suzi Quatro. He's been really generous, he's the only person really that's helped me since I've been here. He's been really helpful, always included me in music and studio time, he's my best friend, really.
'It's been a great experience knowing him and now I can't imagine my life without Paul-Ronney and his family.'
The pair recently released an EP together, its title track is a cover of Seven Spanish Angels, originally a duet by Ray Charles and Willie Nelson.
Paul-Ronney says: 'With all touring being off and it not being possible to gather in large groups, the time was perfect to do this. We recorded with Alex McGowan at London's Space Eko Studio where we had both worked with our bands.'
Paul-Ronney Angel and Tomi Rae Brown are playing a gig in Portsmouth, June 2021. Picture by Josie Beth-Davies
With his band unable to perform, Paul-Ronney also released his solo debut single, One Ghost Town, last year and has a solo album, London Texas Lockdown, coming soon.
'I was on pretty much the last flight out of Texas,' explains Paul-Ronney, 'I'd done a little tour with this guitarist Danny B Harvey who used to work with (Motorhead's mainman) Lemmy in a band called Head Cats.
'His mother-in-law is Linda Gail Lewis, who is Jerry Lee Lewis's younger sister. I've been sending tapes back and forth with her, so I've got an album made in London and Texas, hence the title.'
'You'd think that this woman is Jerry Lee Lewis the way she plays piano,' adds Tomi Rae, 'it's out of this world. She's out of sight and got this old-time, good old fashioned Loretta Lynn, Patsy Cline country-thing going on.'
Urban Voodoo Machine on the World Music Stage at Victorious Festival, 2019. Picture by Paul Windsor
Over the past year, Paul-Ronney, often accompanied by his multi-instrumentalist wife Ane, has whole-heartedly embraced livestreaming shows from the living room of their London home. This Saturday will be their 59th consecutive weekly gig. When restrictions have allowed they've been joined by musical guests, including various Urban Voodooers and Tomi Rae, among others.
Paul-Ronney explains: 'All my work was cancelled – I'm a full-time musician, I don't know how to do anything else.
'I figured out how to press the Facebook Live button, just about – it took a few weeks before I realised there was another button to get it the right way around so I didn't look like a left-handed guitarist!
'It's become a long-running trashy TV show now. It's different from playing a gig, but I enjoy doing it on a different level.'
He puts his 'loyal fanbase' down to its continued success, and he's been using it as a testing ground for new material.
'It's a lot of the same people who've been watching, and they donate money as well. It's also given me a focus – for a while I didn't know what day of the week it was, but now it's: "Hey, it's Saturday in a couple of days, so I know what I'm doing at 8pm!" The preparation starts well before that because we play a different set every week, if I've written a new song or learnt a new cover – I like to keep it interesting.'
Paul-Ronney Angel and Tomi Rae Brown play among the graves... Picture by Josie Beth-Davies
Even once live music resumes, Paul-Ronney thinks the livestreams could coninue, albeit less regularly.
'Once we're out gigging, I'll probably still do a couple a month. It's a different thing, and you can still reach an audience – I might be able to go to Portsmouth this year, but I probably can't go to Australia, and I get people watching from all over.'
There is also a new Urban Voodoo Machine album, $nake Oi£ €ngine, pending. Originally to have been released for a spring 2020 tour that never happened, it's 'been on the shelf for a whole year because we didn't want to release it while we couldn't tour.'
That is now due in September, and the full band will be at The Wedgewood Rooms on January 22, 2022.
Tomi Rae now lives full-time in the UK with her 19-year-old son James Brown II, and is planning her own debut album, Strong, due for release later this year.
Her husband died on Christmas day, 2006. The four-time married superstar had nine recognised children, and his death triggered years of legal wrangling in America's courts, all of which has only been resolved in recent months.
'We've only just finished saying goodbye,' says Tomi Rae. 'Things are moving on now and the family business is all cleared up – you'll hear no more madness, everything is fine.
'We're all the James Brown family, and we love him and respect him, and none of us would do anything to hurt the legacy of such a wonderful man.
'Of course, we have an agreement, but that's all confidential so we don't discuss that. We're all descendants and family members of one of the greatest entertainers in the world, and we owe it to him to repsect each other – and him, and that's where we are now.
'There's no more courts, and it's all about honouring James Brown and moving on with our lives. And my love goes to the family.
'We just love it in England, me and my son, and we decided we want to stay in the UK.'
She describes the album as 'a bon voyage, and a respectful goodbye to my husband.' She adds: 'All my songs, I write them, they're very much geared towards saying goodbye to a man that I loved very much and changed my life.
'And then moving on and coming to England with my son and starting over and getting interested in this new style of music that I wasn't doing before I met Paul-Ronney.
'Since I've known Paul-Ronney I've been able to get back into some real old-school country roots, old-school punk roots. I forgot I used to do that before James Brown. There was a Tomi Rae before James Brown that I forgot all about until I met Ronney, and he made me come out of my shell.
'It's really been a beautiful experience and a heart-wrenching one at times, but he's helped me so much.
'I was with James Brown for so long and he did everything, but this now is my debut album, on my own. I'm just getting a lot of help from people I trust.'
Their son has also begun performing – he does backing vocals on the new EP – but Tomi Rae says she deliberately kept him from the spotlight as he grew up.
'He's got his dad's tenacity in working with music, but he's got a different style all of his own.
'He raps but he's also begun singing more now. He doesn't stop practicing, he's constantly recording on (music software) Logic, 14 hours a day – he's got my husband's work ethic, but he's the sweetest kid in the world.
'He's gorgeous and he's 19 – he's untouched because I've kept him away from everyone, I've kept him away from the media.
'He's the sweetest kid you'll ever meet, and he's in to his music. He's writing his own material and doing his own recordings, and working with Paul-Ronney as well.'
Paul-Ronney and Tomi Rae are now preparing to hit the road for a few shows together – the first of which is the Portsmouth date, and are clearly enjoying each other's company.
'We're having a blast!' says Tomi Rae with a cackle.
'We've done a few shows like this, and the format works well,' says Paul-Ronney.
Tomi Rae adds: 'People seem to enjoy being able to kick back, enjoy the music, have a drink and some conversation.'
'Conversation?' fires back an incredulous Paul-Ronney, 'They're not supposed to talk during the show!'
An Evening with Paul-Ronney Angel and Tomirae Brown is at Royal Beach Hotel, Southsea, on Saturday, June 5 from 7pm. Tickets £12. Go to book.events/pompeypunknroll/.
A message from the Editor, Mark Waldron
You can subscribe here for unlimited access to our online coverage, including Pompey, for 27p a day.