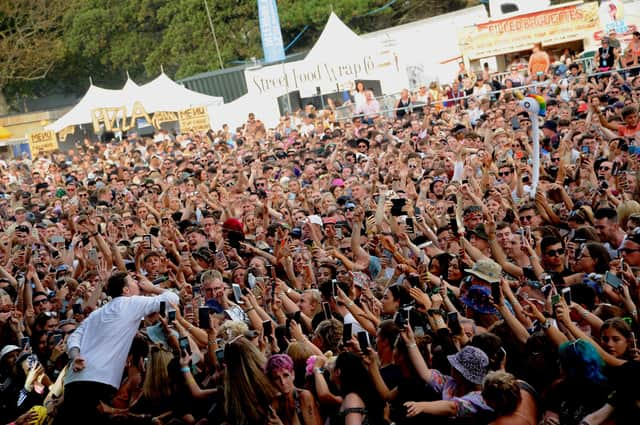 Professor Green performs to a huge crowd at Victorious Festival, 2019. Picture by Paul Windsor.
Victorious is due to return to Southsea Common over the August bank holiday weekend after the team behind it were forced to cancel last year's festival due to the coronavirus pandemic.
While the organisers are necessarily keeping their cards close to their chests, there is renewed optimism in the camp.
Cofounder Andy Marsh said: 'The roadmap that has been announced has made things look a lot more promising for events like us and we're going to be as transparent with everyone and as honest as possible to try and do what we can to deliver a safe festival – as long as things keep moving that way.
'We're working very hard behind the scenes to see what we can achieve.'
And if allowed, the festival will return in all its glory.
Fellow cofounder James Ralls said: 'At the moment, according to the roadmap, it would be on at the same scale as before.
'There's a lot of working groups to do with putting on events and Covid and things that are going on with the government and Sage, and we're involved in some of those and getting information from them, so it's all looking quite good.
'Obviously if it turns out you can't go ahead, then we won't, but right now, we're optimistic that we can.
'Hopefully we can welcome everyone back. That's what we're looking forward to and that's what we're playing for.'
Earlier this week Reading and Leeds Festivals confirmed they will take place the same weekend, but the Victorious team are choosing to exercise more caution, and will be watching next week's budget closely.
Insurance could be key – no events in 2020 were covered for Covid-19-related cancellations, but fortunately many of the acts agreed to either return deposits or forgo payment.
James said: 'I don't think anyone in the UK was covered by their insurance – I heard of a couple of festivals in Europe which were, but no-one really was here, so anything you'd spent up to that point was money down the drain really.'
'There's a million working parts,' said Andy, 'are the bands going to want to do it? Will they deem it safe? What insurance comes out next week in the budget? All of the festivals are going to be looking at that because if there are more spikes, the roadmap is very tight, and they won't hesitate to shut things down again.
'But it sounds like we're heading in the right direction.'
No acts have been confirmed so far for this year's bill, but Andy added: 'Whatever happens, we will provide an awesome line-up as we always do, so don't panic.'
Acts originally pencilled in to play in 2020 included Ian Brown, The Streets, Royal Blood, Nile Rodgers and Chic and Bombay Bicycle Club.
And since Prime Minster Boris Johnson announced the plans, ticket sales have 'gone crazy.'
Many music-lovers with tickets for 2020 had already agreed to roll them over to this year rather than ask for a refund.
The festival has become a major part of the city's economy, bringing £12.5m to Portsmouth in 2019, and the organisers are keen to keep working with local people where possible.
James said: 'I know it's been bad, but now it looks like there's some light at the end of the tunnel - and it should be good going forward.
'I know some people didn't get support from the government schemes – a lot of the independents and freelancers – but the guys we use, they're all local, and they're all still around, so we're glad we'll be able to get all of them back in work again.'
A message from the Editor, Mark Waldron
You can subscribe here for unlimited access to Portsmouth news online - as well as fewer adverts, access to our digital edition and mobile app.
Our trial offer starts at just £2 a month for the first two months.