Festive Fun Run to return to Emsworth to raise 'vital' cash for young lives
An eco charity is bringing back their annual Festive Fun Run to continue their 'vital' climate work in the community and support young lives.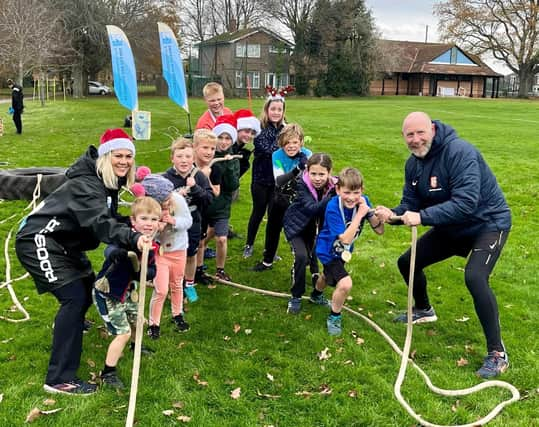 The event organised by The Final Straw Foundation takes place on Sunday, December 3, at Emsworth Park in a bid to raise cash for the foundation and Verity's Gift which provides counselling and support for young people. The park will once again jingle with Christmas songs and children are invited to don their best costumes to spread the Christmas cheer after its successful launch last year.
Bianca Carr, Founder of The Final Straw Foundation, said: "It's just about being there smiling. Health, happiness, look after ourselves, look after the planet and set yourself a goal.
"Anything we raise is going to be used directly to continue our education programme throughout the year. We go to schools and provide assemblies and workshops all around plastic pollution and environmental change and with children being so into that, it's really key to us."
Runners can challenge themselves to as many laps of the recreation ground as they wish and fitness instructor George 'Topsy' Turner will put on a warmup for participants at 9.30am ahead of the run.
Cakes and refreshments will be available from Queenie's Vintage Tea Room, who will hold a stand on the day, while runners can also meet 'Nellie the Big Fish' - a character at the park created to raise awareness of plastic pollution in our seas. Bianca hopes for about 120 sign ups after more than 70 children took part last year.
Bianca added: "It's an individual challenge for little people to feel part of something. We're not doing it to make lots of money, we're doing it to bring our community together. We've got the sustainably sourced wooden medals and reusable cups.
"We've invited the local schools to send it out to their pupils if any kids want to get involved and we've got a mini warm up at the beginning."
The Festive Fun Run is open to all children aged four to 16. Entry costs £5 and under 3s go free. Proceeds will be evenly split between Verity's Gift and The Final Straw Foundation. The event runs from 9.30am to midday. All participants must be supervised by an adult throughout the event. To buy a ticket go to ticketsource.co.uk/final-straw-foundation/t-eaxrlpv