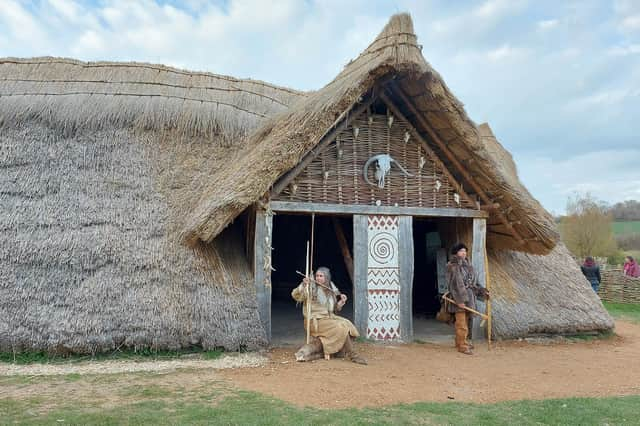 Butser Ancient Farm's reconstruction of a stone age building, Horton House, unveiled, April 2021. From left: Jo Shorter, William Scanlan. Picture by Chris Broom
Over the past five decades, the attraction has become internationally renowned for its archaeological reconstructions of ancient buildings from the Stone Age, Iron Age, Roman Britain and the Anglo-Saxon periods.
Sat in the rolling countryside of the South Downs National Park at Chalton it has pioneered a hands-on practical approach to understanding life in the past through experimentation and reconstruction.
In the winter of 2019/20 work also began on the latest addition to the site – an ambitious reconstruction of a neolithic building known as Horton House.
But then of course, in spring last year, the pandemic hit, and Butser was forced to close to the public. However, because of the nature of Butser, they were left with considerable running costs and no means of income.
At first, the team behind it feared the worst.
Director of Butser Ancient Farm, Simon Jay says: 'Around this time last year, we were sitting here looking at the site and there would normally be 3-400 school children, plus visitors on site.
'It was thriving every single day.
A screenshot from Butser Plus, the new web-subscription service from Butser Ancient Farm
'So to sit here and there was nobody on site, you just think how can we survive?'
The public rallied, making donations, and the government's Cultural Recovery Fund gave them a grant of £284,800 last October. But with the events of last year proving that it was hard to predict how the pandemic would unfold, the team needed to look at other ways to generate an income.
Simon adds: 'Looking back now, it kind of gave us a point to kind of stop and breathe a little bit and actually see the site as a whole, and that's when we started thinking: How can we get what out there? How can we get what we're doing every day, what we're doing here, to people? And that's how Butser Plus came about.'
Butser Plus is a new online platform that will allow users to enter an online world featuring professionally shot behind-the-scenes video content about life at this unique heritage site. Supporters from around the globe will be able to sign up to access the exclusive content, and their donations will help to safeguard the farm's future as it recovers from the impact of Covid.
Horton House under construction at Butser Ancient Farm. Picture by Rachel Bingham
'We are on our own, we're not government owned, we are independent, so we have to pay the rent, we have to pay everything else, and the site costs up to about £1,000 a day to run. There's wages, all the livestock, there's these beautiful reconstructed buildings which are all organic, they need constant maintenance which costs a lot of money.
'We knew we do lots of interesting and strange things here, so we employed Holly, our videographer and editor.
'She's come onboard, she's filming great content, it's almost like a Netflix but focused on the prehistoric side. There's a lot on there already and we'll be uploading several videos every single month.'
The website will not only showcase experimental archaeology and ancient skills such as coppicing, flintknapping and thatching, but it will also share nature and mindful content, giving remote access to the gentle beauty of the Farm's rural location
Jo Shorter, a volunteer at Butser Ancient Farm, giving a demonstration of stone age skills
'We wanted something a bit more natural with that,' says Simon, 'and we wanted to go into different areas as well – we wanted to look at the wellbeing side of things. A connection to your past is powerful and in a world of confusion and anxiety we wanted to showcase something that brings about a bit more wellbeing to people.
'That's what Butser Plus will offer, and hopefully help us support the place – and people can learn from it.'
Now that Butser has been able to reopen to the public since April 12, Horton House is open to the public for the first time. Recently finished, this stunning structure is reconstruction of a late-stone age period building based on a discovery made in Horton, Berkshire, in 2012.
Claire Walton, Butser's resident archaeologist explains the project's origins: 'There was a neolithic house here before and it had reached what I would call the end of its safe lifespan, so I was given the brief to find some more archaeological evidence to use for a new neolithic house.'
She came across the Horton excavation, which was conducted by Wessex Archaeology.
'We found lots of picture on the internet where they had illustrated their own computer-generated interpretation of what the building might have looked like, as part of a public engagement exercise.
'On the back of that, I thought this was the perfect case study because it's been excavated by a commercial archaeology unit, they've already done public engagement, they've already created their own interpretation, so we've got a great started point.
'I phoned them up thinking I might get a polite: "Thanks but no thanks", but they were really thrilled and that started off a really nice relationship. We got so much more out of it, in terms of the detail of the excavation, than we ever expected, we could ask lots of detailed questions, so in terms of experiment, it was ideal. We could ask about the size of the post-holes, what was in the post-holes, all the archeological science – it was great.'
The building was only finished days before being unveiled to the public.
'We just finished some of the painting on the front panel between the two doors in the last few days – we'd saved it up until the last moment.
'Today I went in and I finished putting some pots by the fire, and a little chair – I was laughing to myself because it's like set-dressing for a film or something, but I love that we've finally got to that stage that I had imagined in my head all those many months ago.
'It's not just an architectural shell, it's an immersive experience that you can go inside, smell, feel and touch and look at the neolithic – it's just an interpretation of it, but I love that, that's what I was trying to achieve.'
With most staff furloughed during lockdown, Will Scanlan carried on with the mammoth task of the thatching on his own.
Claire adds: 'He was here more or less throughout – he did most of that thatching. It's massive and we love that it's shaggy-looking. We don't necessarily say this is what it would have looked like.' She gestures to the far side of the site: 'Up there's a very neat-looking Saxon house being thatched by professionals, and it will last a long time, admittedly, but we love this because I think it's more convincing.'
With most people thinking of the roundhouse when they think of stone age houses, this style is unique – at least in the UK
'I don't really think anyone else has done it, says Claire, 'on the continent maybe, but not here, so it was quite unique, because there was nobody to show me the way.
'I simply looked at the footprint and thought, what can we engineer out of the ground from this? It was a total challenge – remember I'm an archaeologist, not an engineer!
'It was an enormous learning experience for me, but it was a learning experience for us all about creating something convincing, but also acknowledging that it's just one interpretation – that was really important for me and for everybody.
'To be proud, to say: "This is great, but it's not the only possibility," and to feel comfortable saying that.'
HOW TO CHECK INTO BUTSER PLUS, AND VISITING THE ANCIENT FARM
Butser Plus allows you to enter the world of Butser Ancient Farm online, while supporting their work.
Discover professional, behind-the-scenes video content sharing the story of this unique heritage site, alongside ancient skills and knowledge to escape into the past. By joining, your donation will help to safeguard the farm's future.
It offers the option of paying monthly or yearly, with a minimum donation of £5.99 per month.Go to butserplus.com.
The farm is also open to the public again, but daily numbers are limited by Covid restrictions, so tickets must be booked online in advance. Adults, £10, concessions £9, children 3-16, £6, under-threes free. A family ticket for two adults, two children is £26.
A message from the Editor, Mark Waldron
You can subscribe here for unlimited access to our online coverage, including Pompey, with 70 per cent fewer adverts for less than 20p a day.