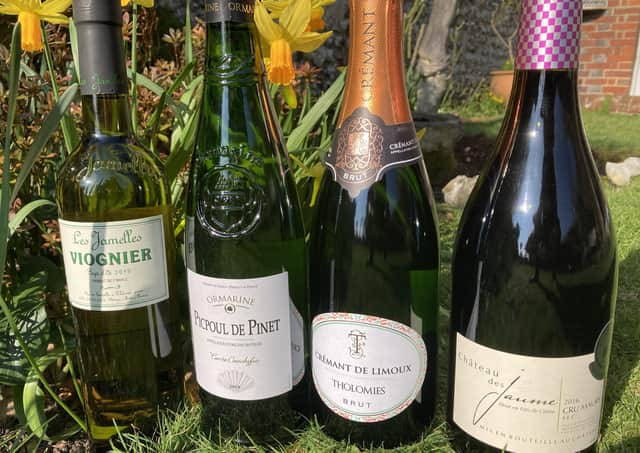 Wines from women winemakers SUS-210103-131133001
In an industry once dominated by men, like so many others, more and more wines are being made by women. A trend to be celebrated in its own right, since women winemakers produce some outstanding wines in many different categories and price levels. Perhaps a combination of openness to change, passion, attention to detail and care, combined with a certain level of intuition, the resultant wines are vibrant and expressive with intense character.
The Languedoc Roussillon region in the south of France is home to a host of different appellations, each with very different characteristics. Contributing significantly to the European wine lake in the recent past, a matter of some billion or so excess litres of wine which nobody wanted, things have changed dramatically and the region now produces characterful and highly desirable wines across the price spectrum. I have chosen four wines from different areas in this region, all of which are made by women winemakers.
Ormarine Conchylia Picpoul de Pinet 2019, is made by winemakers Marie Lefebvre and Virginie Berthuit, who is in her 15th vintage with Ormarine, the leading producer of Picpoul de Pinet. It is a fresh, zippy, elegant white with bags of style, full of white flowers, passion fruit and a mouth-watering citrus zing. Sea breezes from the nearby Etang de Thau impart an appealing hint of salinity to the picpoul grapes. Pair with pan-fried Dover sole or grilled giant prawns. £9 from M&S.
Another appealing and very reasonably priced dry white from the Pays d'Oc is Les Jamelles Viognier 2019, £7.50 from the Co-op. Intensely aromatic, with apricot, white peach, lavender, violet and citrus fruit. Winemaker Catherine Delaunay co-founded Badet Clément, which now sells 16 million bottles of wine a year around the world. She is responsible for Les Jamelles, the company's enduringly popular flagship brand. Fabulous with Thai cuisine and gently spiced dishes.
I am a great fan of the range of Crémant sparkling wines made in different parts of France.
Well-made and well-priced sparkling wines fit for any celebration. Crémant de Limoux Brut Tholomies hoves from vineyards nestled in the hills of south-west France. Fresh and floral, with hints of citrus and almonds. Made by winemaker Marie Toussaint from 90 per cent Chardonnay with 10 per cent Pinot Noir and Chenin Blanc and aged 15 months on the lees. £11.99 from The Oxford Wine Company.
From the same winemaker at Les Grand Chais de France, comes an unusual red wine from the small and relatively new appellation for dry wines, of Maury in the Roussillon. Chateau des Jaume Cru Maury Sec 2016 . Intense, full-bodied and rich, with smooth, elegant, fine tannins and a long finish. Made from a blend of 70 per cent Grenache and 30 per cent Carignan, it is one of the few wines which can work with a chocolate dessert, but equally good with beef or blue cheeses. Red berry fruits with a touch of vanilla from oak ageing and spice on the finish. £14.95 from flagshipwines.co.uk or the equally amazing 2015 vintage from Gusto wines at Ford near Littlehampton at £15.99.