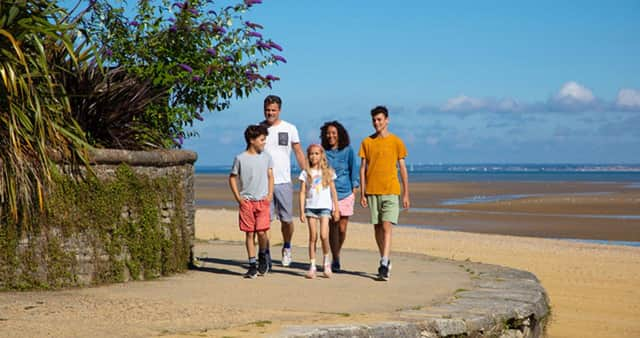 Enjoy family fun on the Isle of Wight
We've events and attractions to suit all ages. And, of course, our golden beaches and glorious countryside – in the best climate in the UK! Easily reached with Wightlink, the Isle of Wight offers you a chance to really get away from it all –from just £59 for a day return with the car, or travel on foot and Kids Go Free*all through the school holidays. Book today at wightlink.co.uk/news. *offer terms and conditions apply, visit wightlink.co.uk/terms .
Here are 10 great reasons to enjoy a family trip to the Isle of Wight this half-term:
Tapnell Farm Mischief and May-Hem
From a Royal residence to a rocket testing site, from riding the waves to riding a rollercoaster, from forests to an illuminated gorge, we've got an attraction for every type of family. Whether you have an hour, a day, a weekend or a week to spend on the Isle of Wight, you'll experience something you've never seen before. Take the FastCat from Portsmouth Harbour railway station and you'll be in Ryde in just 22 minutes. Or take the car and leave from Wightlink's ferry port in Gunwharf, arriving in Fishbourne 45 minutes later.
2 Tapnell Farm – Mischief and May-Hem this half-term
A brand new, cheeky character who's larger than life and full of mischief is arriving at Tapnell Farm this May half-term. Don't miss the unveiling of their latest resident and new show from 28 May-4 June. Tapnell Farm will also be serving up special treats to celebrate the Queen's Platinum Jubilee, alongside their Craft Cabin where you can make tiaras, crowns and flags – headed up by their new arrival.
3 Isle of Wight Balloon Festival
Isle of Wight Balloon Festival
Ascend into a world where the sky is the limit as Robin Hill presents the new, Official Isle of Wight Balloon Festival from 28-30 May, with a fresh new look. Join the Robin Hill team for an exciting weekend of balloon tethering, talks from award-winning pilots and captivating night glow performances. Last year's event welcomed over 4,000 visitors per day to the park for a jam-packed schedule of spectacular entertainment with LIVE music, street performers and delicious street food in a picturesque setting.
4 'Kids Rule' at Carisbrooke Castle
Get yourselves down to the grounds of Carisbrooke Castle from 28 May-5 June for a right royal knees-up. With historical plays on the reign of Henry VII and the Tudors, the chance to have a go at being a foot soldier, culminating in a children's battle programme twice a day, and general celebrations for the Queen's Platinum Jubilee, it's a family fun event not to be missed.
5 Hit the beach or picnic in the countryside
Kids Rule at Carisbrooke Castle
We've got more than our fair share of coast – from sunny, sandy, traditional family beaches to wild cliffs and secluded coves. Choose the wide sandy beaches of Ryde, Sandown or Shanklin for a traditional British seaside experience this half-term. Fancy a picnic in the open air? Immerse yourself fully with the Isle of Wight's natural environment by choosing local ingredients and head to Culver Down, Blackgang Viewpoint or Brading Down for the best views; or St Helens Duver for a mix of coast and countryside.
6 Wildheart Animal Sanctuary
Formerly known as Isle of Wight Zoo, the Wildheart Animal Sanctuary is a very special attraction. It's a family-run wildlife haven, set in the ruins of a Victorian fort. Overlooking the glorious beaches of Sandown, this is a sanctuary like no other. There's a vast collection of animals from all over the world here, looked after with exquisite care by the warm, friendly 'animologists'. This is the biggest animal sanctuary on the Isle of Wight and it provides a wild and wonderful day out for the entire family.
7 Blackgang Chine presents Cowboys vs Dinosaurs
Have a picnic in the countryside
The oldest theme park in the UK is pitting its most-loved characters against each other in the ultimate popularity contest: Cowboys vs Dinosaurs on 28 May-4 June. Are you a dino-fanatic or do you see yourself as the next Sheriff or Outlaw of Cowboy Town? Show your support to decide who will be crowned the champion.
8 Victoria's Family Day Out at Osborne
Celebrate the royal jubilee at Osborne, the palatial seaside home of Queen Victoria from 31 May-2 June. Join Victoria and her beloved Albert and enjoy
hands-on activities, everyone's favourite slapstick spectacular, Punch and Judy, and old-fashioned thrills and spills on the traditional fairground rides. It's set to be a royally good day out.
If you're looking for a truly unique and historic island experience – it's been going more than 200 years – follow in the footsteps of Jane Austen and Queen Victoria and take a tour of Shanklin Chine. This tree-lined gorge winds its way from Shanklin Old Village to the beach below via a stunning waterfall and, at night, magical illuminations.
See the tigers at Wildheart Animal Sanctuary
Located in the seaside town of Sandown with a beachfront location, Sandham Gardens is home to a wide range of exciting activities including Sandham Skynets: The Big Bounce, Sandham Karts and Dino Islands: A Golf Adventure. There's free entry to the rainbow playground and skate park and you can take a break from all the fun at the Ice Cream Shack.
Blackgang Chine presents Cowboys vs Dinosaurs
Experience Victoria's Family Day Out at Osborne
A FastCat leaving Portsmouth