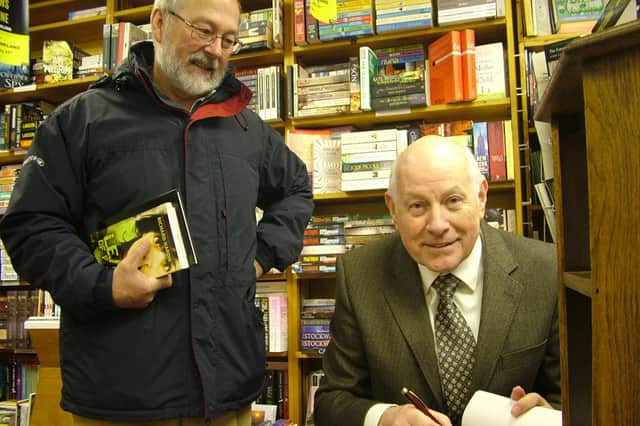 Richard V Frankland at The Book Shop, Lee-on-the-Solent.
Richard V Frankland has published his latest book in the thriller series about Ian Vaughan entitled In Treacherous Waters.
He said: 'This is the story of his second official mission for Britain's SIS.
'The brutal death of British SIS agent David Patterson whilst conducting an undercover investigation into illegal arms trading in Angola raises questions regarding his wife's stepfather, Jan Vermeulen.
'Can Ian Vaughan rescue her and get her to safety, when dark forces at work within the SIS risk both their lives?'
Richard's early working life was as a construction engineer, a career that also took him to work in Zambia and Jordan. Returning home, he joined a major Japanese corporation, administering large civil and industrial projects in Europe, Africa and the Middle East. A career change to run a small family business and read for a Masters Degree in Maritime Studies led to him writing his first novel, A Cast of Hawks, published in 2010.
The sequel, Batsu, was followed by Shadows in Sunshine, set in Madeira, then In Treacherous Waters.
The book costs £10.99 from pegasuspublishers.com. For more information go to richardvfrankland.wordpress.com