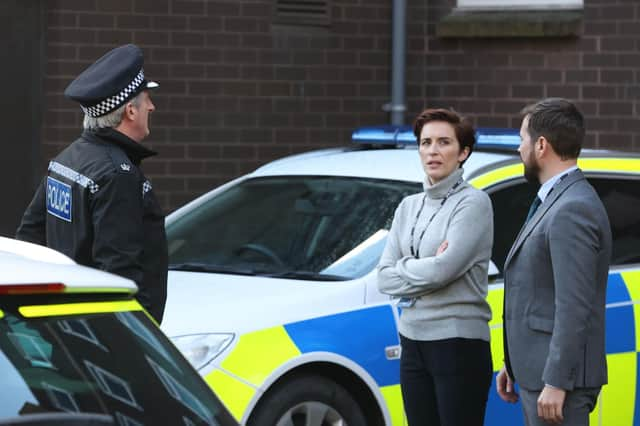 (left to right) Adrian Dunbar, Vicky McClure and Martin Compston on the set of the sixth series of Line of Duty. Picture: Liam McBurney/PA Wire
A seventh series of the show has not yet been confirmed by the BBC
However the finale of season six left fans feeling disappointed, with many comparing it to the unsatisfactory conclusion of Game of Thrones.
Spoiler Warning from here on out
It revealed the identify of the mysterious corrupt officer known as 'H'.
He was revealed to be Detective Superintendent Ian Buckles, a recurring character on the show.
But the reveal did not go down well on social media.
One person tweeted: 'Even the wee donkey can't believe it's Buckles.'
Another added: 'Jesus, Mary, Joseph and the wee donkey was that it!! Aint no way I believe Buckles is H.'
One wrote: 'Ok I'm about to go nuts. Tell me another season is on its way because that ending with Buckles is disappointing.'
Fans were quick to compare the episode to the ending of Game of Thrones.
One tweeted: 'It's game of thrones all over again.'
Another echoed this sentiment, writing: 'Game of Thrones: Worst ending in history. Line of Duty: Hold my Buckels.'
One said: 'Line of Duty ending has joined Game of Thrones and How I Met Your Mother.'
A person wrote: 'Life's most disappointing things: 2020, Game of Thrones final season, Line of Duty series 6 finale.'
One wrote: 'Did they get the game of thrones series 8 writers in or something.'
What did you think of the Game of Thrones finale? Let us know in the comments below.
A message from the Editor, Mark Waldron
You can subscribe here for unlimited access to our online coverage, including Pompey, for 27p a day.