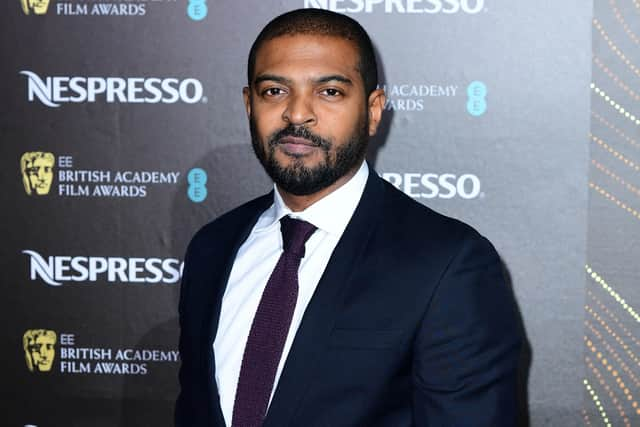 Noel Clarke has been accused of misconduct by 20 women. Picture: Ian West/PA Wire
The actor is currently starring in the thriller as DC Martin Young, a surveillance detective who sets up his observation post in the home of a single mother.
The five-part drama was broadcast throughout this week and was due to conclude on tonight.
Twenty women who knew Mr Clarke in a professional capacity have come forward with allegations in The Guardian, prompting ITV to announce it will not be broadcasting the final episode but will make it available on the ITV Hub.
Mr Clarke has 'vehemently' denied claims of sexual misconduct.
The channel said in a statement: 'ITV has a zero tolerance policy to bullying, harassment and victimisation and robust procedures in place to investigate and deal with any complaints.
'We strongly believe that everyone deserves to work in a supportive and safe environment.
'In light of the very serious nature of the allegations against Noel Clarke raised by 20 women in the Guardian's report, ITV has decided it is no longer appropriate to broadcast the final episode of the drama Viewpoint on ITV main channel this evening.
'We are mindful that some of our viewers have already invested four hours of their time over the past four nights in following this thriller which was due to conclude this evening, and they have yet to see the final episode.
'As such we plan to make it available on ITV Hub tonight for a limited time for any viewers who wish to seek it out, and watch its conclusion.'
Broadcaster Sky, which has aired three series of Clarke's series Bulletproof, has said it is halting work with Clarke following the accusations.
Meanwhile Bafta has sought to explain why it honoured Clarke with the outstanding British contribution to cinema award earlier this month – after it had been informed of accusations of misconduct.
The Academy has suspended his award and membership, and sought to clarify to members why it proceeded with plans to celebrate the actor at the recent film awards.
Clarke's Bulletproof co-star, Ashley Walters, said on social media: 'My thoughts are with the women who have come forward and told their awful stories, I am in shock and deeply saddened by what I have heard on a multitude of levels.
'I could never condone behaviour of this nature neither in nor out of the workplace, and whilst Noel has been a friend and colleague for several years, I cannot stand by and ignore these allegations.
'Sexual harassment, abuse and bullying have no place in our industry. Every woman has the right to a safe workplace and moving forward I pledge my dedication to this.'
A message from the Editor, Mark Waldron
You can subscribe here for unlimited access to our online coverage, including Pompey, for 27p a day.