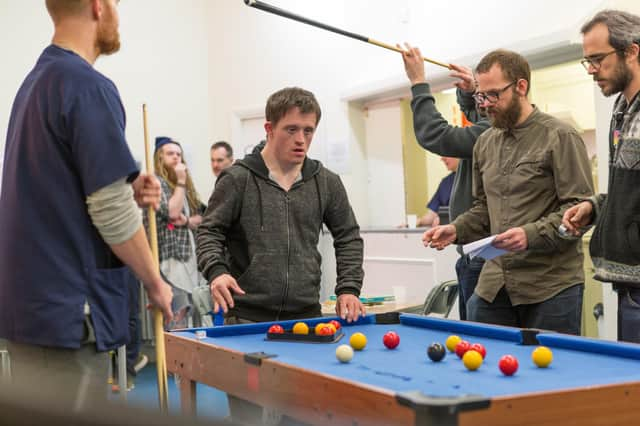 Filming Innocence, with actor Tommy Jessop, centre, and director Ben Reid, right.
The 20-minute gritty crime thriller was inspired by and dedicated to his brother Tom, who has Down syndrome.
The plot sees a young man with Down syndrome become prime suspect after the death of a care home worker.
'My brother Tom has Down syndrome,' says Ben. 'We share a deep love of cinema and have spent many happy hours watching films together.
'Our favourite genre has always been crime. However, the more crime films Tom and I watched, and we watched a lot, the more Tom became aware that the heroes in these films never looked like him.
'Neither did the villains – and Tom loves a villain. When we did occasionally see a character with Down syndrome, they were often the victim – poor souls, wrongly accused. Never the lead protagonist, choosing their own destiny, rather than having it foisted upon them.
'This drove me to make Innocence, giving Tom the character he's always been denied and shining a light on the fact people with Down syndrome are more capable and intelligent than most people believe.'
The poster for award-winning short film Innocence
Tom was frustrated at people with Down syndrome being patronised and stereotyped as kind-hearted.
'People with Down syndrome, just like you and me, have wants, have needs, have desires and have passions.
'They have the ability to do good things to do bad things and be morally ambiguous.'
Playing the main character of Dylan is Tommy Jessop, an actor with Down syndrome. Ben saw him in the BAFTA-nominated BBC drama Coming Down the Mountain in which he played opposite Nicholas Hoult.
Max and Ken Ross took on the T21 challenge to raise funds for Portsmouth Down Syndrome Association, November 2020.
'The central character of Dylan demanded an actor was was able to be sensitive and warm but also defiant and strong,' says Ben. 'In Tommy Jessop we found an actor who encapsulated all of those qualities.'
Ben now hopes to turn Innocence into a full-length feature and is looking for funding.
Ken produced the short film with Tibo Travers of Sweetdoh Films.
Ken is the executive producer of three feature films including the multi-award winning My Feral Heart, which was released in 2016.
Tommy Jessop and Alice Lowe in a scene from Innocence
A trustee for PDSA, Ken is dedicated to promoting inclusion for people with Down syndrome in all walks of life and is working with Bafta, NHS, dozens of schools and with parliament to make positive changes happen.
Married to PDSA co-founder Rachael, their son Max, 16, has Down syndrome.
The family live in Hinton Daubney near Waterlooville, and Max is currently studying for his GCSEs before going to college in September.
Ken says: 'Reading the script just made me think this is such a brilliant way all the values I am holding dear and the point I am trying to get across to as wide an audience as possible, that people with Down syndrome really need to be treated and respected in exactly the same way as any one else.'
Ken was soured on the film world after the experience of making the Wesley Snipes-starring movie, Gallowwalkers, which was bedevilled with problems and had its release delayed for several years.
'That sort of put me off making films,' he notes drily.
But it was getting involved with the 2016 film My Feral Heart, which rekindled his passion for the medium.
It follows the story of Luke (played by Steven Brandon) a young man with Down syndrome who prizes his independence, but is forced into a care home after the death of his mother. It is currently available to view on the BBC iPlayer.
'That film's won 14 international awards, lead actor Steven Brandon picked up the best actor award at National Film Awards – beating Michael Fassbender, Daniel Radcliffe, and Eddie Radmayne.
'It really showed me something because the budget for that film was about a 180th of the budget of the film I made with Wesley Snipes, which didn't win any international awards...
'One of the reasons we do what we do with PDSA is trying to show the world what people with Down syndrome can do, rather than play to some sort of stereotype of what they can't do.
'We suddenly realised with making films we can really accelerate that message.
'When you're involved in the educational world as we are, training schools and training the NHS through the charity, you're working within a chamber where you shouldn't have too much resistance because everyone should be looking to further their knowledge.
'We wanted to try and think of a way we could reach a mass market and films have really been that route for us.
'You still have to make a good film – no-one gets a free pass in terms of their acting abilities.'
And to make sure the film reaches as wide an audience as possible, they've made Innocence available to view for free online.
'We went through the festival circuits, which is good,' says Ken 'That gets the awards and things like that, but we wanted as many people around the world to see it as possible, so we're free-screening it.'
Innocence has won numerous awards, been long and shortlisted for others including the Baftas, and been screened as an official selection at festivals across the UK and Europe.
'It's the first time a film has been made showing a character with Down syndrome in this way,' adds Ken, 'and again we wanted to try and show that people with Down syndrome aren't one-dimensional.
'Everyone has the potential to do anything – we'd rather that people thought about including people with Down syndrome in everything, rather than just thinking: "Well this is what I know...", which for most people, if we're honest, is very little.'
Ken and Rachael are also Bafta's only patrons for equality and inclusion.
'We sit very central to all the policy which will be coming out over the next two-three years from Bafta, in terms of how we see the film and TV industry moving to better include people with Down syndrome.'
A recent survey by Bafta found that people with leaning disabilities are massively underrepresented within the film and TV industry.
'I see this very public way of improving awareness. We've got some real opportunities in front of us now to try and correct this, I wouldn't say once and for all, but to really move it properly in the right direction.'
And they hope it won't just improve the situation in the film world – but will also show everyone else what people with Down syndrome are capable of.
'This isn't just about creating jobs in the film and TV industry, this is about using art to show other employers that actually they could hire someone with Down syndrome as well.
'We're not just looking for film companies to do it, we're looking for any employer watching the film to do it.
'If people are aware of what they can do and how they can do it, and where their expectations should be, and where their expectations should be very high, rather than, "that will do", it's going to be a very much more meaningful experience for everyone involved.
'People with learning disabilities know when they're being patronised, they'll know when they're bring dismissed, they'll know when it's not serious and people will push back against that – they're just the same as everyone else.'
To see Innocence for free either watch it at the top of this story, or go to ​​​omeleto.com/255539.
MEET THE STAR OF INNOCENCE
He can currently be seen on your TV on Sunday evenings, starring in one of the BBC's biggest dramas of recent years, Line of Duty.
But actor Tommy Jessop's first major break came when he was cast opposite Nicholas Hoult in Mark Haddon's feature-length BBC drama Coming Down The Mountain.
Tommy's performance was widely praised and the film was nominated for a Bafta for Best single Drama before winning the RADAR People of the Year Human Rights MEDIA Award 2008.Tommy's subsequent film work includes The Damned United, Day Of The Flowers And Freddie's Story.On TV Tommy has also appeared in Casualty, Holby City, Monroe, Doctors, Off Their Rockers and starred in several BBC documentaries.
Tommy also made history when he became the first professional actor with Down syndrome to play the lead role of Hamlet in a mainstream theatre tour across England.
Tommy gives a very still and powerful performance in Innocence that makes you focus on the character he plays who is as manipulative as they come.
'Acting truly is a great passion in my life,' said Tommy, who got into acting through the BBC/Channel 4 Talent Fund and went to stage school.
'I really loved playing a character with such powerful emotions.
'I enjoyed swearing, shouting, and being quite violent, all for love!
'I'm always up for a challenging role and I enjoyed this one. The film sends out a powerful message and I am glad to be part of this.
'I can literally play anything you can throw at me.'
Tommy is also on Bafta's Elevate programme which has given him meetings with Oscar-winning heavyweights Martin Scorsese and Sam Mendes
Ken Ross explains: 'None of this is about tokenism, it's about identifying people who are good at things, and creating opportunities for them and also creating opportunities for people who are still learning.
'You can only get on the Elevate programme if you're already a bankable star, but it just opens the doors for people who might not get the access they probably should get to people in the industry.'
WHAT IS PORTSMOUTH DOWN SYNDROME ASSOCIATION?
The Portsmouth Down Syndrome Association was started in 2010.
One of the three co-founders and now its chairwoman and fundraising director is Rachael Ross – Max's mother and Ken's wife.
Operating out of the Sarah Duffen Centre in Somers Town, their mission statement says: 'We are committed to improving the lives of children and families in Portsmouth, Hampshire and beyond.
'We know our young people can succeed when given the opportunity and with the right support, and we believe they deserve the same opportunities and right to experience success as their peers.
'When children with Down syndrome are given opportunities to participate and be fully included, the whole community benefits.'
A message from the Editor, Mark Waldron
You can subscribe here for unlimited access to Portsmouth news online - as well as fewer adverts, access to our digital edition and mobile app.
Our trial offer starts at just £2 a month for the first two months.