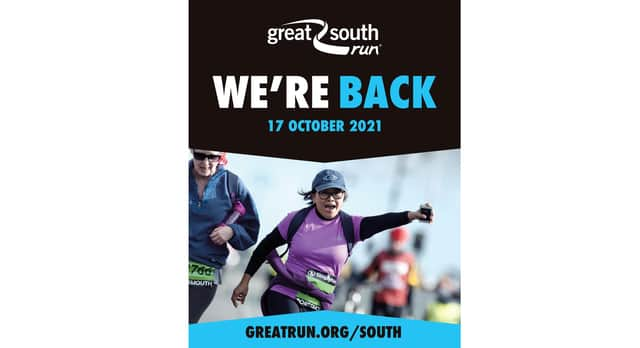 The Great South Run is back in 2021 - will you be on the start line?
The Great South Run is just around the corner and we couldn't be more excited to be back! Running the stunning sights of the south coast as part of the world-famous 10-mile event is quite an experience and it's one you're likely to never forget.
If you've already secured your place on the start line, or you're looking for your next challenge, then here's a summary of what you can expect from the Great South Run on October 16-17.
16,000 runners will line up on the 10-mile start line in Southsea, before setting off on one of the most picturesque running routes around.
The route takes runners along Clarence Esplanade and along the vibrant seafront for the first two miles, taking in views of Clarence Pier, Horatio Nelson's statue, Spinnaker Tower, Portsmouth Harbour and through Portsmouth's Historic Dockyard where runners pass HMS Victory.
The historic route continues, passing cathedrals and castles and beaches, before a final two-mile stretch alongside the beach and on to the famous seafront finish line.
Prepare to be entertained from start to finish by a host of local musicians, charity cheering squads, our very own Beats Boost zone and the Wave 105 crew.
With 10 entertainment zones and two charity cheering squads, we're doing our best to keep you motivated every step of the way. Here's what you can expect to see (and of course hear) on your run:
Bands on the Run – we've lined up some of the very best bands and local musicians to provide the soundtrack to your run. From drummers to DJs and guitarists, they'll have you bopping, clapping, singing and running to the beat.
Beats Boost – Our very own music zone will raise your running to the next level with a DJ truck providing the beats and bubbles blowing everywhere! It'll be an experience to remember and quite possibly a selfie hotspot.
Charity Cheering Zones – loud cheering, clapping and hollering your name, the charity cheering squads provide
instant motivation and inspiration for runners.
The LGBTQ+ Cheer Point – brought to you by Nissan, this will bring the colour and a wall of noise to your run. The high energy cheer zone will have you smiling, whooping and, most importantly, pumping your legs a little faster.
Wave 105 Radio Zone – the Wave 105 crew will give you an extra skip in your step with their upbeat support zone.
Renowned for being fast and flat, the Great South Run offers a great opportunity to achieve a 10-mile PB. With crowds cheering, fellow runners spurring each other on and training in the bank, race day always lends itself to mightily impressive achievements.
If you're looking to make it to the finish line in a particular time, our team of pacers will be on hand to help you achieve your goal. There'll be 17 pacers, pacing runners from 1 hour 10 minutes to 2 hours 5 mins, depending on your wave allocation.
If you don't fancy the full 10 miles, then the Great South 5k could be the challenge for you. Taking place on Saturday October 16, the 5k event gets the weekend's running action underway. Expect a relaxed and fun atmosphere as part-time runners mix with club runners on a fast, flat and scenic course.
The Junior & Mini events ensure the budding running stars of the future get their shot at glory. Runners aged 3-15 can enjoy the big event experience with music and encouragement the whole way round and a very special medal at the finish.
THE FINISH LINE FEELING & A WORTHY REWARD
Crossing the seafront finish line to cheering crowds, you'll be feeling elation, exhaustion and joy as you complete your challenge. The greatest reward in taking part is the sense of achievement as you cross the finish line, but a shiny new medal, a snazzy finisher's t-shirt and a finisher's bag filled with goodies will await you at the end of the run.
There's nothing quite like the feeling of putting on your exclusive medal and finisher's t-shirt that you collect once you've crossed the line. Combine it with an ice-cold pint and the perfect post-run meal. You've earned it!
It's shaping up to be an action-packed weekend of running, so whether you do it for the challenge, to fundraise for charity or simply for fun, take your place on the start line and be part of something really special.
Find out more and enter here .