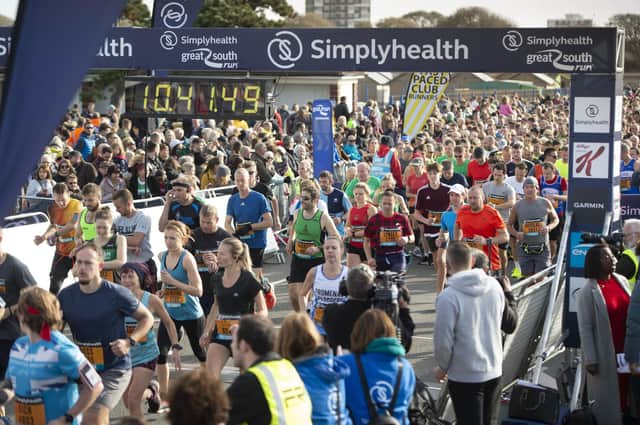 Entrants in the Great South Run 2019
It's shaping up to be an action-packed weekend, with the 5k and Junior & Mini event on the Saturday and the world's biggest 10-mile event on the Sunday.
The event is famous for its buzzing atmosphere, iconic music and entertainment zones, and a route that takes runners past HMS Victory, Portsmouth's Historic Dockyard and the glorious seafront finish.
With entertainment zones that celebrate local character, some of the best (and loudest!) crowd support anywhere in the world and all the action televised live, this is an event day experience like no other.
The Great South Run is back in 2021
Renowned for a fast and flat route, the event takes participants on a run through history before finishing with sea views on the idyllic Esplanade.
To keep runners safe there will be covid secure measures in place, but the thrill of running the world-famous course and the unbeatable feeling of crossing the seafront finish line will be even more special this year.
The greatest reward in taking part is the sense of achievement as you cross the finish line. But a shiny new medal, a snazzy finisher's t-shirt and a finisher's bag filled with goodies will await you at the end of the run.
Great Run events are renowned for being well-organised, safe and inclusive and the atmosphere and support is always unbelievable.
The satisfaction of completing the Great South Run
Whether you do it for the challenge, to fundraise for charity, or simply for fun, take your place on the start line and be part of something really special. To find out more and enter, go to https://www.greatrun.org/events/great-South-run/.
Junior & Mini Great South Run
It's not just about the grown-ups, the Junior & Mini event gives runners aged 3+ the opportunity to enjoy the big event experience.
A buzzing atmosphere, music and plenty of encouragement will help your little one the whole way round the course and a very special medal awaits at the finish.
The Business Challenge encourages local businesses to compete against each other on to be crowned champions.
If you and a group of colleagues want to take on a running event together, for charity, a fitness goal or perhaps just have fun as a team, why not enter a team into the ENGIE Business Challenge at the Great South Run.